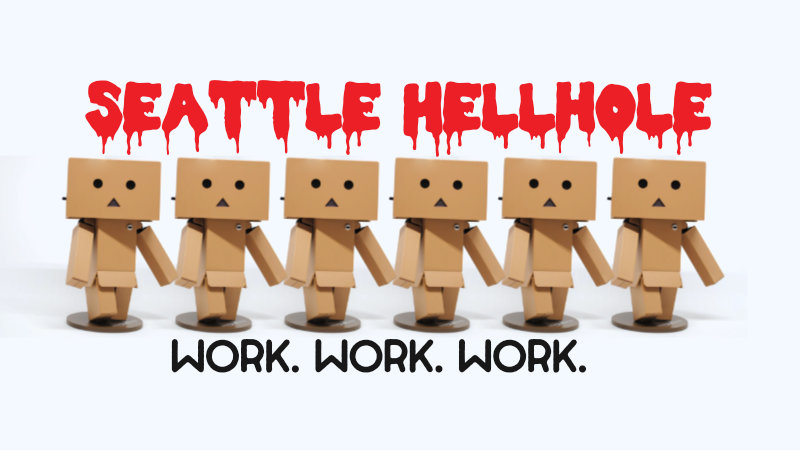 Dealer Madness: Landlords have too much power
Comrades in the market for eighths and edibles should steer clear of The Joint. In addition to being a petty landlord, the owner has a dark history with women.
David Sadis, who founded the chain of recreational weed stores with his brother Shy, is a wannabe real estate mogul and a world-class sociopath. A former broker from Bellevue, Sadis followed an all-too-familiar trajectory toward modest wealth, buying and demolishing foreclosed properties to make way for overpriced low-quality micro-studios.
In 2006, Sadis was arrested for domestic violence for punching his girlfriend "in the face twice with a closed fist," according to court documents. The two continued dating afterward, and Sadis convinced her to drop the charges. But when they broke up, he began stalking and harassing her, according to a written statement the victim submitted in support of her petition for a protective order.
The man who dated the victim after Sadis also testified that Sadis had sent intimate pictures of her to her family and that he threatened to hire "two big black ladies" to hold her down and shave her head. Sadis also told him he would pay a "dirty cop" to plant drugs in her car and vowed to devote his whole life to "destroying and humiliating" her.
The statements submitted by Sadis' friends and family, including his brother Shy, display a sickeningly familiar DARVO (Deny, Attack and Reverse Victim and Offender) pattern, claiming the victim was drunk and abusive. Whether profiting off the misery of dispossessed homeowners or using his wealth to terrorize women with impunity, Sadis is the personification of the exploitation inherent in capitalism.
US Attorney, Brian Moran, Blocks Safe-Injection Sites
Brian Moran is doing the blockhead on drug policy. Instead of pursuing decriminalization success like Portuguese Socialists, the Trump administration is doubling down on reactionary policies like banning safe injection sites in Seattle. The administration has yet to take any serious action about the for-profit opioid epidemic, however, as pharmaceutical stocks and personal fortunes are more worthwhile than healthy talk on drug policy.
Brian Moran, is a longtime associate of Rob McKenna who joined him at the corporate law firm Orrick, Herrington, & Sutcliffe from 2013 until this year. The firm supported bosses in cases ranging from protecting discrimination by Oracle and helping NBA owners get a cut of sports betting to running point to block a class-action gender discrimination case at Microsoft.
Brian. Retire.
Incarcerated Working Class Heroes
Washington State Department of Corrections banned mailing used books to prisoners, as a way to line approved vendors' pockets and to have more control over what literature inmates receive. It's almost never proven to be a legitimate method for smuggling contraband into prison — unless the contraband is the reading material itself. Read the details here:
It's not surprising. A surge of prison strikes and uprisings last summer combined with active Incarcerated Workers' Organizing Committees forming in Washington state may be putting the powers-that-be on their back foot.
If you feel inclined, you could write Correctional Manager Roy Gonzalez directly as part of a phone zap that Books to Prisoners and IWOC are recommending or, better yet, get the word out.
Citizenship Question on Census Jeopardizes People of Color, Risks Defunding Washington's Meager Safety Nets
Reactionaries are adding a citizenship question to the 2020 census. It's a power grab on a number of levels. It's racist garbage designed to intimidate communities of color and immigrants (regardless of status) from being counted.

Inaccurate counts mean that communities of color will have less voting power in elections as well social safety net funding will be harmed in the process. Rural, Latinx-plurality areas like Yakima, Benton, and Franklin counties will be particularly hard hit, not to mention the 500,000 immigrant-strong King County.
Education funding, Medicare/Medicaid, etc. are all at risk. This change could close rural hospitals altogether and shift the states regressive tax structure into further ineffectiveness.
Fundamentally, democracy must be for and by the people. Our socialism must be rooted in addressing the needs of the many through popular consent. Immigrants deserve to participate in politics.
Now is the time to realize that immigrants' struggles are intertwined with collective working class struggle. To quote Joel Olson:
"Racial oppression is not simply one of many forms of domination; it has played a central role in the development of capitalism in the United States. As a result, struggles against racial oppression have a strategic centrality that other struggles lack."
Action Alert: Immigrant Protection Bill SB 5438
We've reported on it previously during this legislative session but dedicated, immigrant-led organizations like Community to Community fought hard to get Washington State Senate Bill 5438 out of the Labor and Standards Committee. With labor standards weakened federally and ICE brutality on the rise, we need everyone on-board for immigrants. Don't take our word for it though:
Tech Exploits, Whether Coding or Picking
Game developers are being laid off by the hundreds. They suffer under extreme stress. But when it comes to bad workplaces in tech, they're not alone.
Seizing the means of productions isn't a trite slogan. It's an imperative needed to take back stolen power at work: whether money, autonomy, or our health. Socialist want to democratize the workplace because bosses alienate us at work. We're forced to work long hours, with little say on what and how, and at the expense of our humanity.

As an Amazon warehouse worker explained:
"The fastest stower in our building broke the record for stowing over one million items in one year soonest. After receiving little recognition and no advancement, he now wanders the floors of the warehouse loudly shouting and singing to distract from the realities of the work.
"Amazon both quantitatively (tracking our rates and scanner use) and qualitatively (through daily surveys) measures how much time we spend doing the task demanded of us, and they have euphemistically called this "engagement." Amazon recognized our lack of "engagement," so a group of tech workers created "FC Games." Now, each of the stowing and picking stations has an extra screen with a small selection of "games."
It's an unsettling scene that almost belongs in Ender's Game. Business leaders understand the power of propaganda and indoctrination as part of corporate culture, but they call it gamification in practice. Workers, from the fulfillment floor to the fourth floor, must organize together to fight back — before the brain-tracking headsets arrive.
Trump Official Denied Detained Migrant Teens Abortions, Tracked Their Periods
CW: The following contains many stories of abuse

Following immigration news in the US these days often feels like getting sucker-punched by the past, present, and future simultaneously. A third of the news is breaking, urgent, and horrifying, like the most recent enormous ICE workplace raid. A third is the ominous rumbling of terrors to come, like southern border closure. And a third is the reveal of even worse things that have been happening, like the recent admission that over a thousand migrant children are simply 'lost' in US custody.
This story combines all three. Scott Lloyd, a longtime anti-abortion advocate and Trump appointee to the Office of Refugee Resettlement (since removed), had the periods and pregnancies of migrant children in his care tracked in order to deny them abortions. The ACLU told him to stop. He didn't. Oh, and then he lied under oath about it.
In one of the many emails he sent his staff about how to force children to remain pregnant against their will, he discussed giving a huge dose of progesterone to a teenager who was in the middle of a medical abortion, in order to "reverse" it. This was a minor who was the victim of rape, and who had been forced to get the permission of a judge before she was allowed to ask for and receive a medical procedure that would give her back agency over her body. This happened in 2017.

Some version of it—sneakier, maybe less likely to become public—is almost certainly happening still. And its effects will last for decades at a minimum; many of the babies born to the young people forced to carry them will land in the American foster care or for-profit Christian adoption sector, as many child migrants have.
This is just the newest iteration of the state systematically controlling the bodies and reproduction of people in its carceral clutches. Many of the teens being held in ORR custody, and the children they themselves have, are Indigenous. The capricious border they're imprisoned for crossing is one of the many that were laid over their homelands by settler-colonialism. This isn't just a horrifying human rights abuse (forced pregnancy is a war crime under the International Criminal Court)—it's white supremacy.
Weekend Reading: George Jackson Letter
George Jackson, one of the Soledad Brothers, wrote an elegiac letter from prison to abolitionist and lawyer Fay Stender. It's a short, clear, and crisp take-down of capitalism's many forms of slavery and coercion of working peoples — as well as the need for revolutionary self-determination in the face of fascism. Article here. Full issue of Ann Arbor Sun/Dance, October 1970 available here.

---
Note: The Seattle Hellhole represents the views of its writers and does not represent official positions of Seattle DSA at large. Its writers are a collective working on independent pieces, editing, and design to deliver this each week. If you want to volunteer, join us in #wg_comms_design on Slack or email [email protected]