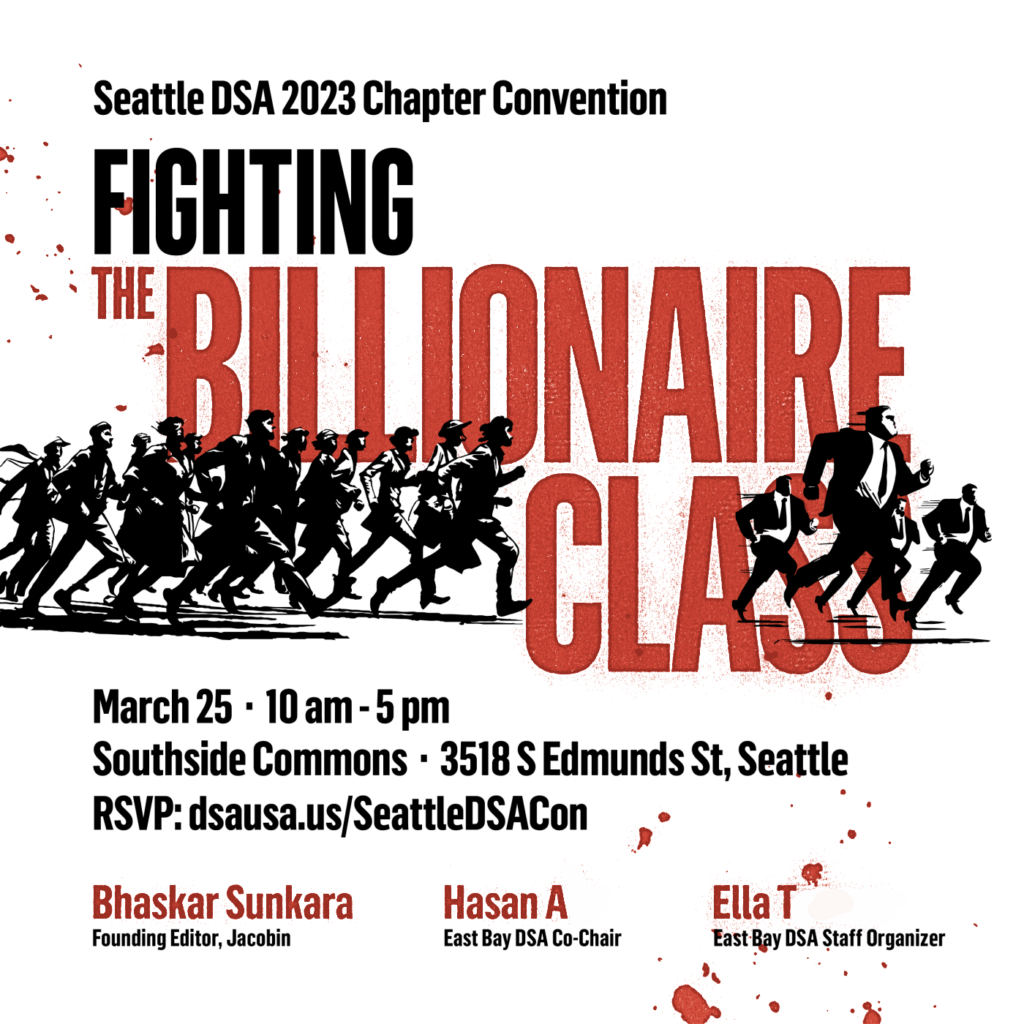 Seattle DSA's annual chapter convention helps guide the overall direction of the entire chapter. It's our largest meeting of the year where members submit changes to our bylaws, resolutions for priority campaigns, and we elect members to the Local Council to help facilitate that over-arching direction.
DSA Members can register here and attend on Saturday, March 25 at 10 AM, in person at Southside Commons in Columbia City or on Zoom.
Important Voting Information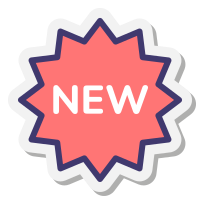 Please see the email with the subject "Seattle DSA Convention IMPORTANT VOTING LINKS" from [email protected] which contains your unique voting key, as well as several links you'll need to vote and deliberate. You can find more detailed information here.
Roll Call – You must sign into roll call starting at 9 AM this Saturday so that the convention can establish quorum and start deliberation.
Get on Stack or submit a parliamentary motion
Voting – A separate form to vote on pending motions, resolutions, and bylaws.
If you are a member in good standing and you did not receive this email, please email [email protected] and we'll work on getting you your ballot. Though this is a hybrid convention, all voting will be done electronically VIA THE LINKS IN YOUR EMAIL, so bring your phone charged to 100%. We will have a limited amount of charging bricks and a charging station with cords at the event, as well as some tech support volunteers on hand.
Agenda
Registration
Volunteer
Finance Report
Local Council Elections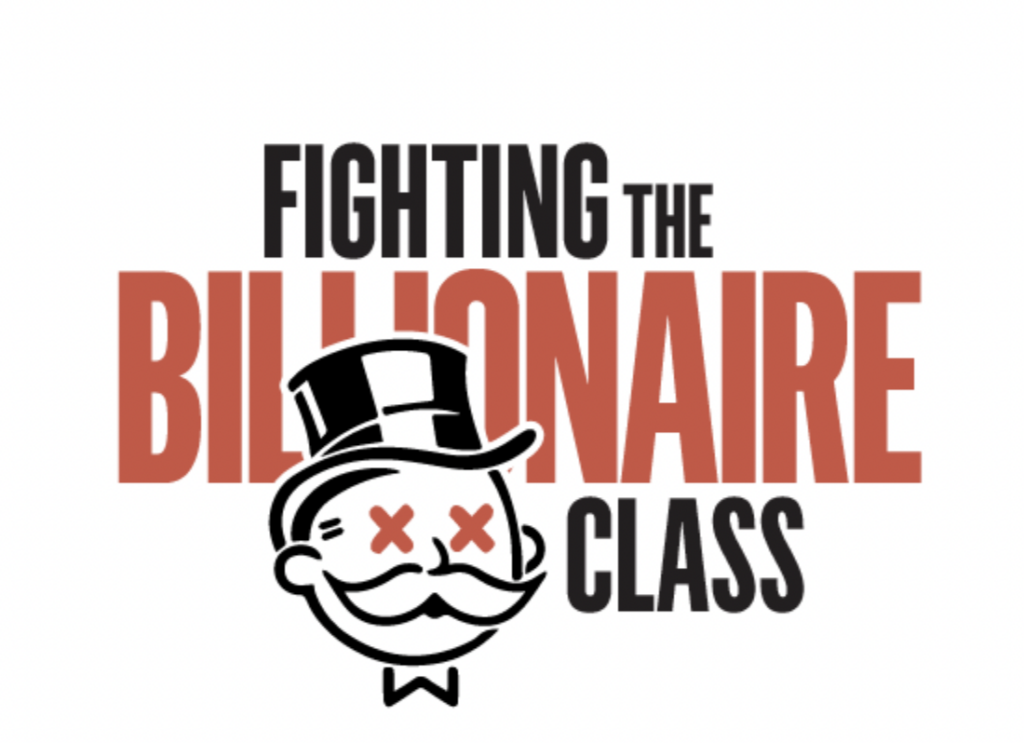 Not on Slack? Forward your welcome email when you registered to [email protected]
Timeline
January 25
Nominations OPEN for Local Council
Submissions OPEN for bylaws changes, resolutions
February 19
Nominations, Resolutions, and Bylaws Changes CLOSE
February 23
All eligible submissions published
March 2
All amendments due.
*NEW* Local Council Nominations due final
March 9
All resolutions and bylaws amendments finalized.
March 11
Final Two Week Notice Email, all final resolutions and bylwas amendments sent to membership.
March 22
Member questions for Local Council candidates due
March 25th from 10AM to 5PM
Local Convention! Local Council elections!
Local Council Candidates
List of candidates that have accepted their nominations, expand each candidate for their statement
Treasurer (1 slot)

Aram F

What do you want to accomplish, create, or change should you be elected?

I want to (1) make sure the chapter operates under a realistic budget (2) strengthen our fundraising so that we can sustain our most important programs and (3) make sure there is a clear process in place for how we collectively decide on money spent

What is your organizing experience/experience for the specific position you are running for?

I have been a Seattle DSA member since 2017, when I was (briefly) involved with the Jon Grant for city council campaign. Since then, I have worked on many electoral campaigns, most recently on Raise the Wage Renton. I also served two six-month terms as co-chair of the electoral working group, and was appointed to the local council in late 2022, filling a vacancy due to a resignation. In the late 1990's I served as treasurer for an all-volunteer non-profit in Boston, where I helped it obtain its own 501c3 status and hire its first part-time staff member.

Describe your approach to working with others, managing conflict, and developing a united front?

My approach is to listen to all sides, but without compromising on my core values and beliefs. I will admit that I at times come across as inflexible because of the above.

Is there anything else you would like to add?

Over the past year SDSA has come a long way towards putting our finances in order. We were in serious non-compliance with state & federal laws, due to the last 2 treasurers not filing required paperwork. Our outgoing treasurer Bryan did a lot of cleanup so the incoming treasurer will have a clean legal slate to start from. We also have, for the first time ever, an operating budget that can serve as the starting point for the 2023-2024 budget that the incoming treasurer will need to prepare and submit by June. Most recently, I've been working with our treasurer on a fundraising plan, to ensure that we can sustainably fund our priorities, including two staff positions which will be our biggest expense item. While this fundraising campaign took longer than expected to get started (in part due to the legal issues that Bryan needed to clean up), we have made good progress. I will continue to prioritize creation of an ambitious but realistic budget, and the fundraising to go along with it.

Michael P (From the Floor) nomination withdrawn
Secretary (1 slot)

Duncan H

What do you want to accomplish, create, or change should you be elected?

As a member of Marxist Unity Group, my focus is on high politics and projects. To put it more concretely, I think that we should approach our work with the eventual aim of the working class seizing political power while bringing this aim to fruition in a structured, committed, and democratically accountable manner. As secretary, I want to build on what our comrade Justin has accomplished in institutional memory in our chapter. This is an important project, since the health of democracy is heavily reliant on the information available to its participants. In addition to the resolutions database, I want to make sure that we have well-archived and readily available copies of documents and materials pertaining to various activities around the chapter. This will be done to also better facilitate the sharing of information between working groups. More broadly for the LC, I want to work on establishing an administration committee, building political unity, and strengthening our education.

What is your organizing experience/experience for the specific position you are running for?

Note taking and agenda drafting for MUG Seattle

Describe your approach to working with others, managing conflict, and developing a united front?

The united front is about principled programmatic unity while retaining freedom of criticism, something which should be an aim for the DSA. Conflict is inevitable in such a mass organization, and the end goal with any conflict is unity. But the key is to achieve this democratically through honest discussion and debate expressed in objective terms that can serve as a basis for us all to struggle through. I would apply the same to working around the chapter, while ultimately accepting what the chapter decides as a basis for our actions.
Elected Organizers (4 slots)
---
Minutes
M1: Approve Convention Rules is ADOPTED ✅ with 56 Yes,0 No, and 1 Abstain. Vote type was Two-Thirds with 37 needed to pass.
Motion: Move B1 to the end of the agenda is ADOPTED ✅ by acclimation
M2: Approve Agenda is ADOPTED ✅ with 53 Yes,0 No, and 2 Abstain. Vote type was Majority with 27 needed to pass.
Michael P is nominated from the floor for Treasurer.
Quorum, set at 118, is met.
R1: The ABCs for Seattle DSA Candidates is ADOPTED ✅ with 59 Yes,30 No, and 7 Abstain. Vote type was Majority with 45 needed to pass.
R3: Strengthening Our Chapter's Capacity by Maintaining Staff is ADOPTED ✅ by acclimation.
R4: Support Worker Organizing in 2023 is ADOPTED ✅ with unanimous consent.
R5: Resolution on Seattle DSA's 2023 Priorities is ADOPTED ✅ with 50 Yes,21 No, and 21 Abstain. Vote type was Majority with 36 needed to pass.
B6A: Reducing Quorum is LOST ❌ with 38 Yes,54 No, and 7 Abstain. Vote type was Two-Thirds with 61 needed to pass.
B6B: Accessible Voting is LOST ❌ with 56 Yes,39 No, and 4 Abstain. Vote type was Two-Thirds with 63 needed to pass.
B3: Electronic Voting for LC and Delegate Elections is ADOPTED ✅ with 69 Yes,11 No, and 3 Abstain. Vote type was Two-Thirds with 53 needed to pass.
Motion to extend debate on bylaws amendments until 4:30, and cut 30 minutes from the candidate forum while focusing only on the contested races, is ADOPTED ✅ by acclimation.
Michael P withdraws nomination for Treasurer.
Bylaws Amendments B1, B5, B7 are TABLED to next Business Meeting.
Chris P, Chris W, Amy W are elected as Co-Chairs, Tom B, Luke C, Ramy K, and Alyndra S are elected as organizers, Aram F elected as treasurer and Duncan H elected as Secretary. See explanation from elections committee here.