Community RALLY AND MARCH to halt the Housing Crisis
Date
March 31
5:30 pm to 7:30 pm
Venue
Seattle City Hall, 600 4th Ave, Seattle, WA 98104, USA
600 4th Ave
Seattle, WA USA WA 98104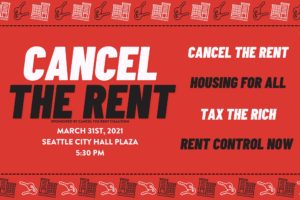 As the economy reopens, thousands of Washington residents face skyrocketing rents, looming evictions, rental and mortgage debt, and homelessness. The global impact of coronavirus drastically accelerated the housing crisis in the U.S., which disproportionately burdens Black, Indigenous, and People of Color communities as well as people with disabilities, women and children.
Meanwhile, pandemic profiteers like Kroger and Amazon make millions and the legislature doles out breadcrumb reforms with the full knowledge this will do little to stop the flood of evictions that will come when the local, state, and federal eviction moratoriums expire.
Enough! Stand up for a massive housing program that gives immediate shelter to those most in need by taxing the mega wealthy. Together let's take to the streets to demand bold solutions to this crisis.
We are demanding the following:
Cancel the Rent!
Housing for All!
Tax the Rich!
Rent Control Now!
This event will be livestreamed.
Sponsored by Cancel the Rent Coalition.
For information, or if your organization would like to endorse this action, contact us at
[email protected]