Cupcakes Against Capitalism – Youth Lead Rally
November 1, 2019 @ 12:00 pm

-

2:00 pm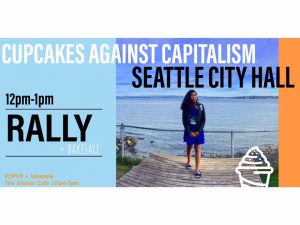 Come join Ona, an Indigenous youth activist and organizer at 12:00 PM in the Seattle City Hall Plaza this Friday, November 1st! Ona is organizing with the support of her Fridays for Future friends to hold #CupcakesAgainstCapitalism to continue her #OnaTakesOnAmazon movement, decrying the exorbitant expenditures Amazon is pumping into our local elections. One last stand before the voting polls close November 5th. #GOTV #StandUpVoteBack
Speakers will include:
– Ona Future, herself!!!
– Zoe Schurmann, Futures For Friday
– Ken Workman, Former Councilman of Duwamish Tribe
– Lorena Gonzalez, Seattle City Wide Councilmember
– Amy Madden, 43rd Legislative District Democrats
– …and more!!
Thank you to Teresa Mosqueda for sponsoring this event.
Please contact for volunteer, sponsorship, endorsement or partnership opportunity. #OnaFuture #OwnYourFuture
***********
More cupcake opportunity: Earlier that morning Ona will have a pop-up stand with our great friends at "The Station" @10am. Come by for a visit before the rally!