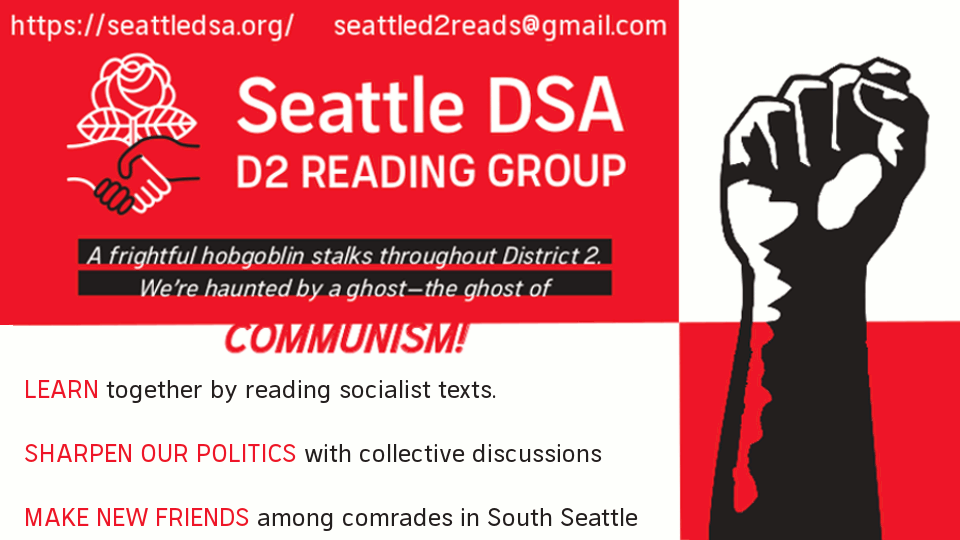 NOTE FROM OUR HOST: the location is accessed from the alley between Spokane and Hinds, behind Beacon. Call (425)830-0483 if you have any trouble finding the spot.
A frightful hobgoblin stalks throughout District 2. We are haunted by a ghost—the ghost of Communism! Join the District 2 Reading group, where we will be reading and discussing socialists texts from throughout our rich shared history, from Marx and Engels through contemporary writers.  In this session, we will be reading part of Bhaskar Sunkara's Socialist Manifesto.
Required Reading: 
Socialist Manifesto by Bhaskar Sunkara
Chapter 5 and 6
For this meeting we will continue our exciting discussion on Chapter 5, about social democracy in the 20th and 21st century. We will also complicate that discussion by mixing in Chapter 6 on the third-world revolutions of the 20th century.
Book available at stores online here: https://www.basicbooks.com/titles/bhaskar-sunkara/the-socialist-manifesto/9781541674004/