Thanks so much to those of you who attended our canvass this past weekend – we knocked on around 300 doors in Ravenna and Roosevelt and had great conversations with D4 residents about the issues that impact us all. Thanks to the support of volunteers like you, our campaign is making great strides; we are currently in FIRST PLACE CITYWIDE for the most Democracy Vouchers received (send yours in today!). We need YOUR help to continue thriving, which you can do by joining us for our regular volunteer canvass THIS SATURDAY (4/6)!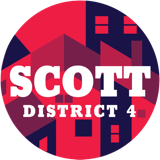 What: Scott 2019 volunteer door canvass
When: Saturday, April 6th from 10:00am to 2:00pm
Where: University District – meet at Red Square at the University of Washington  (1320 NE Campus Pkwy) at 10am and meet back up at Cafe Racer (5828 Roosevelt Way NE) at 2pm.
Why: Face-to-face conversations with D4 voters are super important and we need your help to talk to our neighbors about the issues we care about.