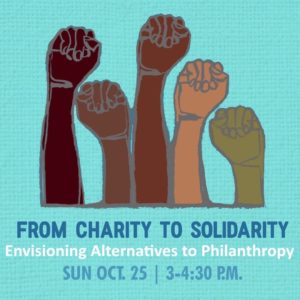 Philanthropy has left black people out in the cold. While many people view philanthropy as a way of "giving back" and "helping the less fortunate," charitable giving only addresses the symptoms of inequality while leaving intact—or worsening— the underlying causes. As a result, organizations serving Black, indigenous and other marginalized communities continue to be chronically underfunded.
Join us for a teach-in where we'll discuss:
The history and political economy of philanthropy

Challenges Black and indigenous organizations face getting funding 

How the neoliberal model of philanthrocapitalism fails to create equity

Mutual aid and other alternative models

Ways to get involved in the struggle against racist philanthropy NOW!
Speakers:
Megan Ming Francis, University of Washington professor of political science

Nikkita Oliver, Community Activist

Chrissy Shimizu, Decriminalize Seattle

Wes, Seattle DSA

…and more