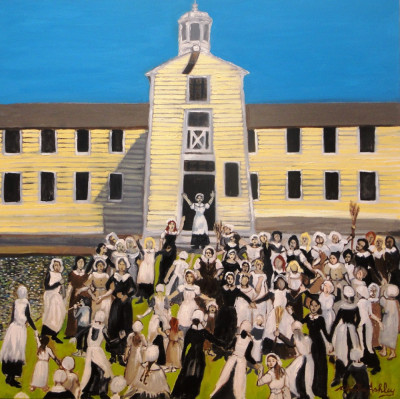 Looking for community and inspiration during COVID-19? Join the Queer & Feminist caucus for our Zoom happy hours and discussions on labor history. We want to explore the rich history of women and queer folks in the US labor movement together! 
RSVP here and we'll send you the link! 
This week we'll learn about the Pawtucket Mill Strike in Pawtucket, Rhode Island. It was the first textile strike in the US, and was primarily organized by women. We'll learn from and about our comrades who fought for us, drawing lessons for the organizing opportunities that present themselves in the time of COVID-19 and beyond. 
Optional reading here!
Each week we'll discuss a different historical event, through the eyes of those on the ground (when material is available). Don't worry, readings will be short, interesting, and optional — or sometimes in the form of movies or music! We'll follow the labor movement in chronological order, because we think this gives us a fuller view of the changing conditions in US society. Feel free to pop-in for one or another, but we encourage you to come as much as you can, and create this (for now, virtual) community with us.