Remember Rosie Jimenez: Rally for Reproductive Justice
October 3, 2019 @ 5:00 pm

-

7:00 pm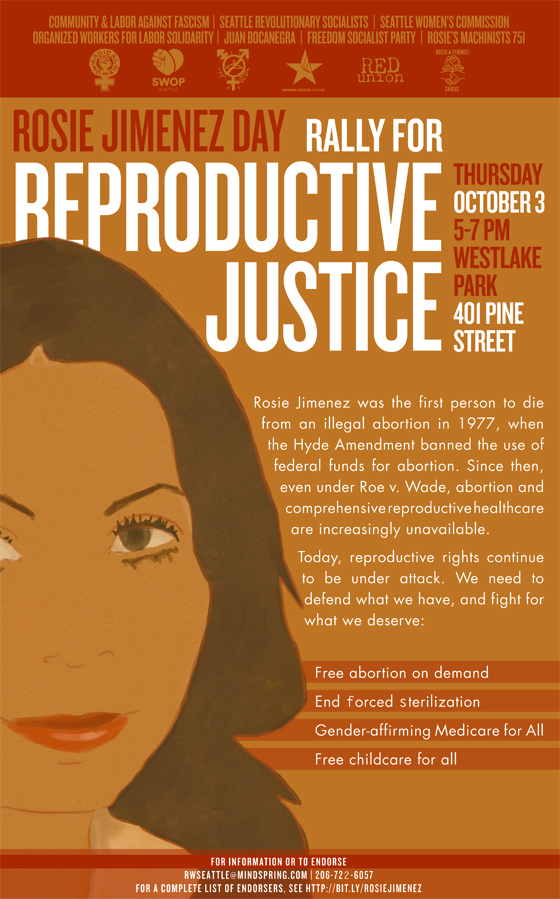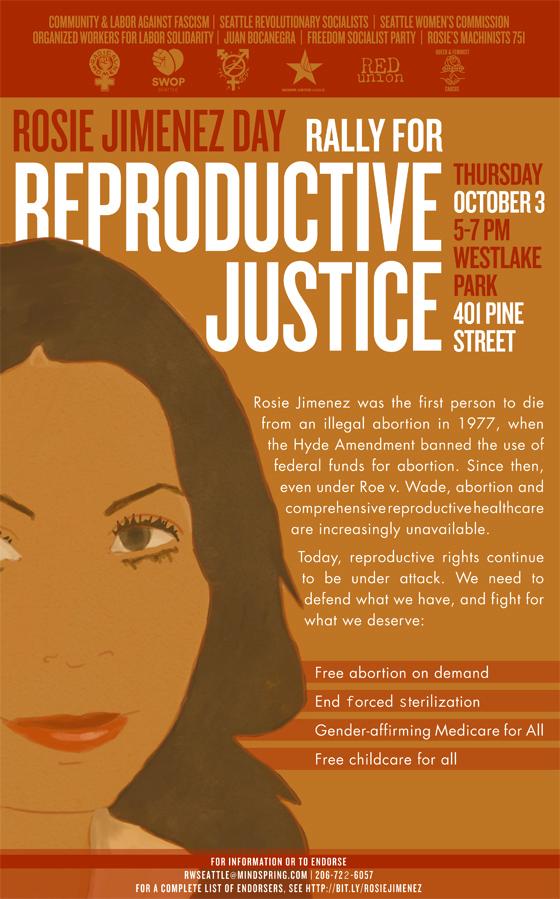 In 1977, Rosie Jimenez, a Latinx college student and single mother, was the first known person to die after the Hyde Amendment banned federal funds from covering Medicaid abortions. This effectively cut millions of low-income people off from safe access to reproductive healthcare. She felt she had no choice but to seek out a cheap and dangerous procedure. Tragically, the current assaults on reproductive justice mean that many people, especially women of color, will face a similar dilemma.
We will be meeting on the anniversary of Rosie's death from an unsafe abortion. Join us in Westlake Park from 5 – 7PM on Thursday, October 3rd, to bring home the need for a strong movement that demands "Our bodies! Our choice!" regardless of race, immigration status, age, or gender identification.
The Rosie Jimenez Day Rally is co-sponsored by Gender Justice League, Radical Women, Red Union, Seattle Clinic Defense, Seattle DSA Queer and Feminist Caucus, and Sex Workers Outreach Project – Seattle.
Endorsers: ANSWER Coalition, Community & Labor Against Fascism, Freedom Socialist Party, Juan Bocanegra, Organized Workers for Labor Solidarity, Party for Socialism and Liberation, Rosie's Machinists 751, Seattle Democratic Socialists of America, Seattle Gay News, Seattle Revolutionary Socialists, Seattle Women's Commission.
Help support this effort by DONATING at http://bit.ly/rosiejimenezdonate
For press inquiries, accommodations, comments, questions, or to add your organization's endorsement, please email [email protected] or call 206-722-6057.