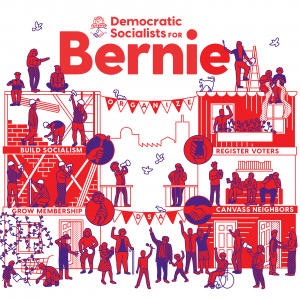 Jan 13-20th is DSA for Bernie's Medicare for All Weekend of Action! As we approach the March 10, 2020 primary, we'll be knocking on doors this Saturday to drum up support for Bernie, and talking to voters about how we can build a mass movement to elect him and win Medicare for All.
So if you'd like to get involved, join us on Saturday, January 18th!  RSVP Here!

Before the canvass, please download the miniVAN app and create an Action ID so you can fully participate. (If you don't have a smartphone, we'll pair you with someone who does.)
App Store: https://apps.apple.com/us/app/minivan-touch/id352087547
Google Play: https://play.google.com/store/apps/details?id=com.voteractivationnetwork.minivan&hl=en_US
Never canvassed before? Don't worry! We'll pair you with someone experienced.
We'll meet at Maple Wood Playfield (near the basketball courts/parking area) at 10:30am, and debrief/grab a bite somewhere afterwards. See you then!
—-> RSVP Here! <—-