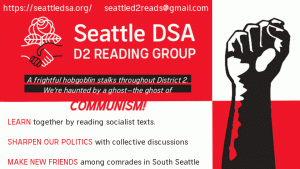 A frightful hobgoblin stalks throughout District 2. We are haunted by a ghost—the ghost of Communism! Join the District 2 Reading group, where we will be reading and discussing socialists texts from throughout our rich shared history, from Marx and Engels through contemporary writers.  In this session, we will be reading part of Bhaskar Sunkara's "Socialist Manifesto".
Learn together by reading socialist texts!
Sharpen our politics with collective discussion!
Make new friends among comrades in District 2!
Bring your friends and your revolutionary spirit to teach and learn from one another!
Required Reading: Socialist Manifesto by Bhaskar Sunkara Chapter 7
For this meeting, we will discuss Chapter 7, Socialism in America. Feel free to bring snacks and beverages to share.
Book available at stores online: https://www.basicbooks.com/titles/bhaskar-sunkara/the-socialist-manifesto/9781541674004/
Questions? Contact the organizer at [email protected]