Socialist Night School is an open course that provides a chance to develop our politics together, regardless of background knowledge or whether you've attended a class before. New members and lifelong socialists, all are welcome! To sign up for our mailing list or to find out more, e-mail us at SeaNightSchool [at] gmail . com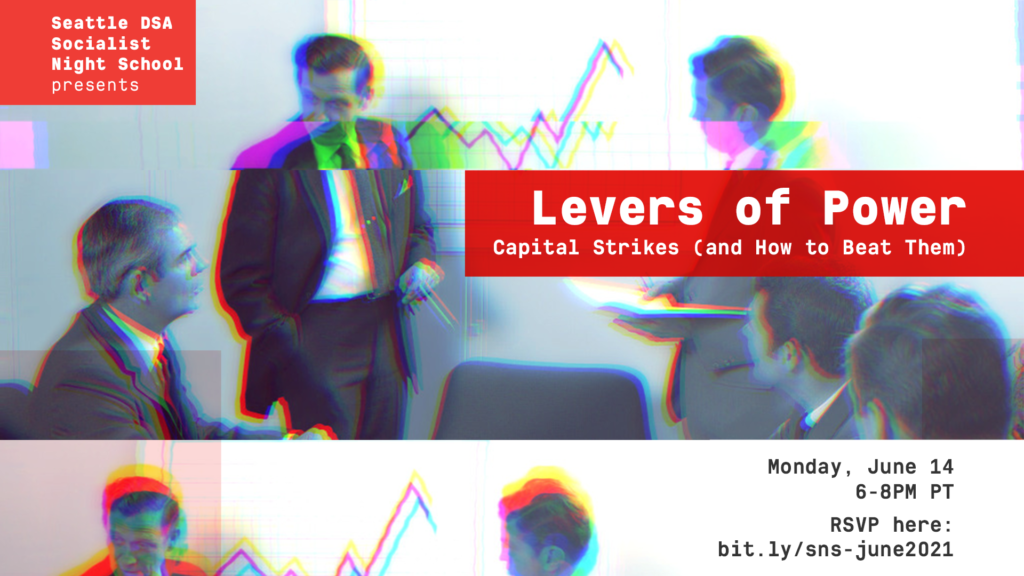 —> RSVP here! <—
Required readings:

Optional reading:

Description:

The power of workers to strike and win concessions from capitalists is familiar to many socialists. What's less familiar is how elites use capital strikes – threats to move jobs overseas, replace workers with robots, or simply withhold their investment – to earn concessions of their own. When this happens, politicians have little recourse to fight back.
But powerful movements have defeated capital strikes before. What would it take to do this again?
This month, we'll be reading excerpts from Levers of Power, a new book by Tarun Banerjee, Michael Schwartz, and Kevin Young. We'll examine how both the Obama and Trump administrations bowed to the threat of capital strikes, and learn about how a powerful Civil Rights Movement beat capitalists at their own game: not just by appealing to lawmakers, but by taking on business itself.
Join us Monday, June 14th at 6PM on Zoom! A guest speaker will give a short lecture based on the assigned readings, followed by breakout sessions and a large group discussion. DSA members from around the country are welcome to come learn with us. See you then!