As you may have heard, Shaun Scott is currently in FIRST PLACE CITYWIDE for the most Democracy  Vouchers received (send yours in today!) AND just rolled out his Seattle Green New Deal platform. The campaign is thriving, and you can continue supporting us by attending our regular volunteer canvass THIS SATURDAY (4/13)!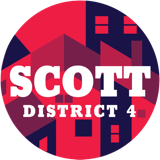 Upcoming Volunteer Opportunities:
Our next volunteer canvass will be THIS SATURDAY in Roosevelt! See the details below and PLEASE EMAIL THE CAMPAIGN IF YOU PLAN TO ATTEND.
Corina: [email protected]
Cassandra: [email protected]
What: Scott 2019 volunteer door canvass
When: Saturday, April 13th from 10:00am to 2:00pm
Where: Roosevelt – meet at Dahl Playfield (7700 25th Ave NE) at 10am and meet back up at Mojito (7545 Lake City Way NE,) at 2pm.
Why: Face-to-face conversations with D4 voters are super important and we need your help to talk to our neighbors about the issues we care about.
*We will also be adding additional volunteer opportunities this month, so STAY TUNED!*