Featured image by Seattle DSA graphic design team
By John Smith
One day, after starting your exciting new job, you might find yourself learning of a speaker coming to the company. You would need to donate to the corporate political action committee (or PAC) in order to attend the appearance, but it's only a small donation to attend…why not?
Later, you get an email saying you can be entered to win football tickets if you join the PAC by donating monthly. You think to yourself, "I work at a progressive company! The CEO cares about diversity and has spoken against Trump! This is a good way to be involved and get my views represented!"
This may seem like the case, but during the 2016 election cycle, many major tech company PACs donated significantly more to Republicans than Democrats– 2.1 million to 1.5 million. For example, the Microsoft PAC was the lead sponsor of a $5000-a-plate dinner for Cathy McMorris Rogers, the only Washington Republican Representative who voted for the AHCA.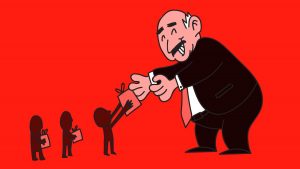 When you step back and consider it, this makes sense. Corporate PACs ultimately serve the short-term interests of the company, and are steered by more senior (and, therefore, usually much wealthier) employees. PACs end up being a channel for tremendous amounts of money into the political system, and disclosure laws make it very easy to obscure or outright hide where money is coming from.
Even when donations go to Democrats, they go to the most corporate and wealth-friendly members of the party, and social issues will always take a backseat to financial ones. Can a politician be fully trusted to really support the public good if they benefit by this system?
PACs exist in direct opposition to the socialist change that our world needs in order to create a more equal and just society. Instead of donating to a PAC, learn about your local politicians and activist groups. Find out who your local DSA chapter has endorsed and works with, and donate your money (or democracy vouchers) to these candidates. Even better, volunteer your time.
Isn't a better, more socialist, world a lot better than free football tickets?