By Chuck McKeever
On Sunday, July 23, members of the Seattle Democratic Socialists of America carried out a service project at Mount Baker's Heliotrope Ridge trail. The DSA volunteers joined a larger work party from the Washington Trails Association to do some badly-needed rehabbing of one of the most popular hiking trails in the area.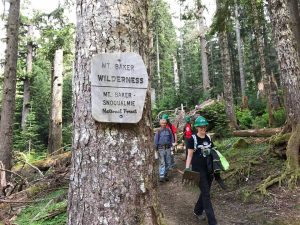 The Project
DSA members carried out a number of tasks, all designed to improve the trail conditions in the area. Under the supervision of a WTA crew leader, we dug "duff" from a pit to reach the quality soil beneath, constructed a zipline to bring that quality soil to various parts of the trail, used the soil to regrade the parts of the trail that had been washed out or become too steep, and transplanted ferns from off-trail areas to the side of the trail in order to repair areas damaged by overuse. The team of 12 members worked in rotating crews to share in all these tasks equally.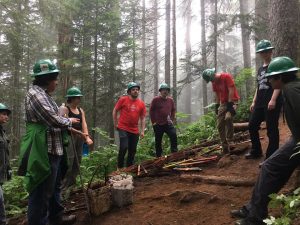 Why WTA?
One of the core pieces of Seattle DSA's platform is a commitment to environmental stewardship. Many members are avid hikers and outdoorspeople themselves, and this project was one way to start repaying the years of collective use we have gotten out of Washington's trails. This project allowed us a chance to help repair and prevent damage to a unique and beautiful ecosystem, as well as to help spread our name and mission to another community.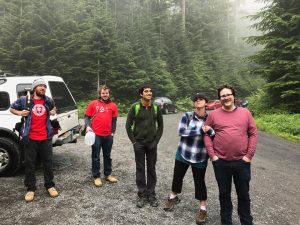 What's Next?
This project was planned and executed by Seattle DSA's Community Service committee. The committee's goal is to engage in meaningful work focusing on local issues while building partnerships with reputable organizations. The WTA is one such group; our other long-term partner, the Low-Income Housing Institute, is another. SDSA's Community Service committee has a number of future projects with LIHI in the works. If you're looking to get involved in future Seattle DSA community service projects, shoot us an email!