Featured image: Seattle DSA was able to send 16 delegates to the 2017 DSA National Convention.
From August 3 – 6, 2017, the Democratic Socialists of America held their biennial national convention in Chicago. It was the organization's largest-ever gathering of socialists from all 50 states.
Delegates gathered to determine DSA's priorities for the next two years, and for an organization that has swelled to more than 25,000 members since the presidential election, that was no easy task.
The Seattle chapter of the Democratic Socialists of America was able to send 16 delegates to the convention. Below are what some delegates thought were the most important, most challenging, and overall most rewarding parts of attending this year's conference.
Editor's note: Some responses were edited for length and clarity, but are otherwise presented verbatim.
Max L.
"The high point of the Convention for me was hearing the international speakers. I think it's crucial that as we fight to support farmworkers in Washington we know that socialists from all over the world have our backs! I loved that each of them encouraged us based upon parallels to their own parties' growth. Hearing about their victories spoke to me about our own DSA future. Hearing them, I felt the importance of progress that they make and we make; falling short of a predetermined mark, e.g., electoral victory, can actually mark strong forward movement with great promise for the future! I feel it's vital for us to act today within the context of the long, rich, honorable history of world socialism!"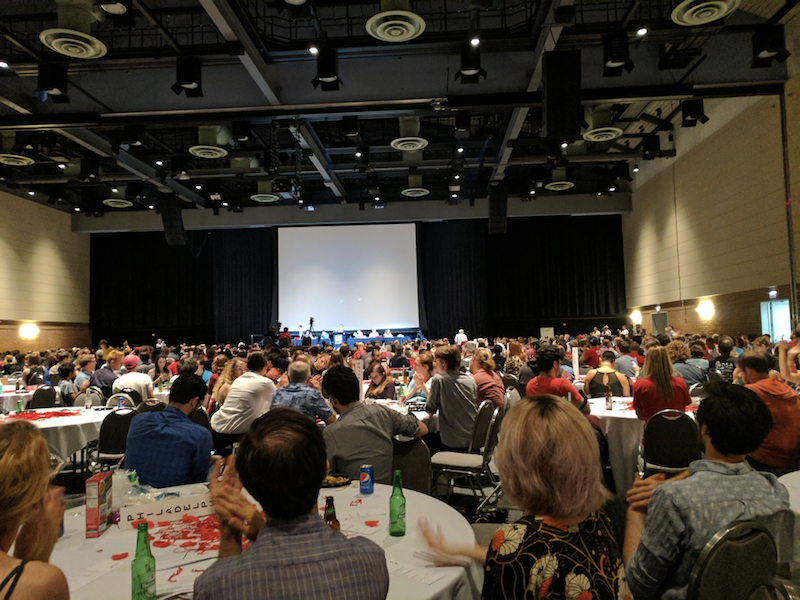 Matt F.
"What does solidarity mean? To a lot of folks, it means being there for each other when times are tough. But it also means having each others' backs in celebration. That was my main takeaway from the DSA conference – it was an example of solidarity in action.
A thousand socialists, democratically elected, traveled from all over the country (and some from across the world) to join together in the physical act of taking part in solidarity with each other. Though it was at times tiring, frustrating, too hot, too cold, too confusing, too fast, too slow, or too whatever can happen when a large deliberative group assembles, the end result was a stronger and more cohesive DSA and a better-organized system that we will use over the next 2 years to fight and win for the sake of our comrades."
Sue H.
"I loved 1) Getting to know fellow DSA members better, 2) Witnessing how effectively Robert's Rules allowed dissenting opinions to be heard and to either have an impact or be dispatched with quickly, depending on the vote of hundreds of delegates, 3) Being up close with so many imperfect humans getting  a lot of socialist work done. I am so grateful for this experience."
Caitlin L.
"Being selected as a delegate confirmed my appreciation for DSA as a place where I can explore and grow into the politics I believe in. Through meeting other like-minded individuals from around our great nation, it became clear that though we are united in a core belief of socialist values, how that socialism takes shape is different for each region.
Despite [some] differences, it was amazing to see the end result of everyone coming together to pass these resolutions and hopefully set the organization up for a spectacular two years of furthering our agenda locally and nationally. That we, as members, have the ability to write and submit amendments speaks to how willing we are to listen, and that if you are willing to get informed, you can really make a big difference with policy. I often forget the ramifications of our day to day work, but to see others really honing in and making this happen was inspiring.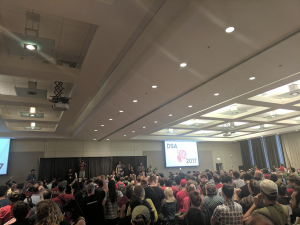 I am continually having to remind myself that what we are doing IS in fact revolutionary in-and-of-itself– our membership and active participation. I see no other way, I see no other answer than to lead the way for socialism. To meet comrades who did revolutionary things, such as fellow delegate Max Lewis burning his draft card, was one of the highlights of my experience. To see that the fire inside that won't leave, to hold onto your values when it becomes unpopular, that they cannot beat you into being subservient – that you can still hold true to what's important, advancing socialism. There is so much history and we are holding the pen to the page at this very moment … We will keep pushing things to the left, to a better world."
Joanna M.
"There were so many incredible things about the convention that it is difficult to put into only a few sentences. It was surreal in the best possible way, and it all feels like a dream from way out here in Nome. The parliamentary procedures were tiring, but their utility in wrangling hundreds of people into a manageable and productive process cannot be denied. It helped drive home the message that we need to discuss and debate with our fellow comrades frequently and vigorously,  always with respect and honesty. 'Always be honest' is a major take home message from the convention.
Some of the best moments were the incredibly candid and heartfelt conversations I shared with other delegates, specifically my Seattle comrades. There is real power in discussing our shared struggles, accepting and meeting each other as we are. None of us are perfect. Not all of us have read 'Das Kapital'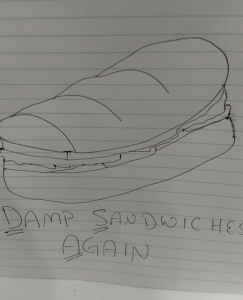 or immersed ourselves in theory. Many of us are quite new to calling ourselves 'socialists', and are still trying to make sense of how we can bring about the change we wish to see. This is especially true of those we are trying to reach and to bring into our growing movement. But all of us have a problem at work, a difficulty in a personal relationship, a challenge we overcome every day just to be functional.
We are growing and face many challenges, but together we are creating something beautiful that promises hope for the future. Thank you so much for allowing me to be a delegate at the convention, but most of all thank you for being part of this. We are stronger together."

Diana R.
"Early on Convention Day 1, Kristian Hernandez–a self-proclaimed Socialist Chingona*–took the stage and delivered the first of many experiences to make me feel like I did, indeed, belong at the national convention. In a room of about 1,000 socialists, most gave a standing ovation to an 'angry brown woman' who said, 'You don't have to be fully versed in Marx to be a socialist. Meet people where they are, not where you want them to be.' As someone who has long held socialist ideologies, but isn't well-versed in theory, and new to DSA, it felt like a sincere welcome to the world we're building. For all of us.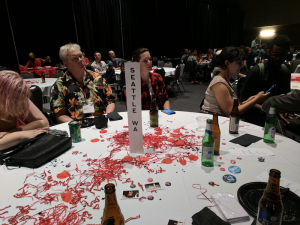 On Convention Day 2, we voted yes on resolution 45 to create an Afro-Socialist + Socialists of Color caucus and resolution 41 for Sanctuary and Immigrants' Rights. These resolutions call for endorsement of reparations, due process for all–regardless of citizenship status–and organizing training for POC. This language is 'too radical' for other organizations and mainstream parties. In DSA, criticized for being all white dudes, these passed overwhelmingly. Again, this felt like building a beautiful world. For all of us.
Guided by our principles through the madness, we came out a stronger, more tender, more knowledgeable delegation. Whether speaking with Seattle members, powerhouse chapters or super fresh comrades, I left interactions feeling inspired by others' experiences and words of encouragement.
We are building a model for the world we want to live in–a taste of liberation–where humans are free to try, to fail, to win, to be human. A taste of liberation is good, but it simply won't be enough to satisfy the hunger. We're gonna have to eat the rich. I'll start heating up the tortillas."
*"Chingona" is Spanish slang for "bad ass (feminine)".
Daniel A.
"The solidarity and camaraderie that we felt at the convention was often overwhelming, but it was the way we confronted our differences that was truly heartening. While it was the interminable slog of parliamentary procedure that gave us the tools to do so, it was a shared belief in a greater project that gave us the motivation. Even the great rivalry of the convention, between the two competing NPC slates, became an alliance mere hours after the results were announced.
I was also astounded at what our comrades across the country were working on and had already accomplished. While we could flaunt our electoral work, community service crews, or any number of other projects, others were working on a huge range of initiatives just as laudable. The housing caucus in particular will be an exciting place to import ideas from across the country, and apply them to struggles across the region – as well as sharing our own successes. I hope that our members are inspired to get involved not just at a local level, but to explore their interests and skills alongside DSA comrades regionally and nationally."
 Jenn S.
"Let's be real–I was extremely nervous for last weekend's DSA Convention. I'm incredibly new to all of this–political organizing, rules of order, calling people comrades. I have whipped cream, but never a vote. In Chicago I was surrounded by incredibly passionate and knowledgeable organizers who seemed to be masters of Robert's Rules of Order. The debates were loud, the objections well stated. Everyone seemed to know what they were doing. I still couldn't seem to shake off one very persistent, negative thought: am I even qualified to do this?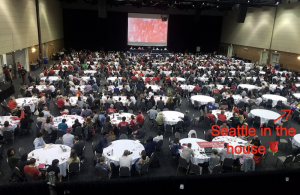 Somewhere in the midst of a few incredible workshops ('Building a Socialist Community and Culture,' I'm looking at you ❤), and some encouraging words from my comrades, I found my political will. One of the most important lessons I took away from the convention was knowing how important my presence was and really feeling that. This isn't going to be a mass movement of people who are Marx experts. At least not yet.
It was amazing to look around at the convention and see people who are self-selecting to be together because we believe the world doesn't have to be like this. And not only do we believe something else is possible, we want to help build it together. I see that so strongly in our chapter here in Seattle, and I am incredibly excited to be a part of this movement. We may not always agree on things, but we're present and persistent. And we show up. I'm very honored to have had been able to represent Seattle at such an amazing event, and look forward to high-fiving every single person in DSA."
Ash C.
"I went into the convention feeling pretty secure in my politics, with the assumption that most other Locals are like ours. We have been doing almost constant work for the last six months, learning as we grow. We lean pretty far left and tend to reach consensus fairly easily. Voting on resolutions, priorities, amendments and a new NPC pushed me to carefully consider my own beliefs and occasionally to defend them.
I saw how big DSA's tent really is for the first time. Although I didn't agree with every vote, nor will I ever fully understand parliamentary procedure, seeing and participating in large scale democratic decision making inspired me.
As a leader and a leftist, I learned a lot about the care and feeding of what will ultimately ensure our success. Before I arrived, I was most excited about attending workshops and caucuses, listening to expert panels and connecting with other Locals. Although those experiences and connections were valuable, developing relationships with my fellow Seattle delegates (and observers!) quickly and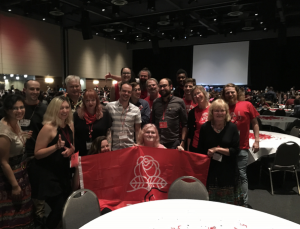 organically took precedence. The phrase I kept repeating throughout was 'shared struggle builds solidarity.' We shared not only the experience of the convention but our personal, daily struggles as well. I feel like we made lasting connections with each other that have allowed us to grow as members who will build up and support the Local. It became clear not just in theory but in practice that trust and radical acceptance are critical to the work we're doing.
We must act in good faith and treat ourselves and each other gently. We can only build a successful socialist future with strong foundations of community and interconnectedness. Above all, we must listen to each other. 
I felt my heart swell with love for my comrades as we bonded over bad sandwiches and worse jokes. Those of us who bonded spent much of the weekend frustrated, sweaty, exhausted and hungry, but we never turned against each other. I'm eternally grateful for the experience and honored to have had the chance to represent our Local and help shape DSA's vision for the future. I love socialism so much you guys."
Press coverage round up:
Are socialists here to ruin everything?
The Stranger | August 9, 2017
Democratic Socialists are taking themselves seriously. Should Democrats?
CNN | August 8, 2017
Special – DSA Convention Interviews (ft. Shaun Scott of Seattle DSA)
Discourse Collective  | August 7, 2017
The First Priority for the Resurgent U.S. Socialist Movement? Single-Payer Healthcare
In These Times | August 7, 2017
The Democratic Socialists of America Have Actual Political Power. What Will They Do With It?
Daily Beast | August 6, 2107
As Congress Tries to Criminalize BDS, the Democratic Socialists of America Endorse It
The Intercept | August 6, 2017
National vice-chair of the DSA speaks on its future (Interview with Joseph Schwartz)
Hard Lens Media | August 5, 2017
The DSA hit 25,000 members. Here's why this could mark a political turning point
Salon | August 5, 2017
9 questions about the Democratic Socialists of America you were too embarrassed to ask
Vox | August 5, 2017

Foreign Policy Developments (Interview with Tim Hardin)
The Young Turks | August 5, 2017
Democratic Socialists of America Celebrate Record Membership in Chicago. Now what?
The Intercept | August 4, 2017
What is The DSA Convention? DSA Membership Grew After the 2016 Election
Bustle | August 3, 2017
Democratic Socialists of America: "We have a moral obligation to take care of this population"
WGN Radio | August 3, 2017
Democratic Socialists of America Hit 25,000 Members  
The Young Turks |  August 1, 2017