Less than two weeks after Microsoft employees posted an internal letter to their executives demanding that the company stop working with ICE and other agencies that violate human rights, workers, joined by Seattle Democratic Socialist of America (DSA) members, demonstrated outside of Microsoft headquarters and hung banners over the highway that read, "MICROSOFT WORKERS SAY DROP ICE."
Microsoft workers and Seattle DSA members aren't just dropping a single banner – but at every exit for Microsoft in Redmond, WA. pic.twitter.com/L7B5m5DeVd

— Seattle DSA? (@SeattleDSA) June 28, 2018
While demonstrating, the protesters handed out flyers to employees and passersby encouraging them to sign on to a letter demanding Microsoft drop their $19.4 million contract with ICE and stop profiting off the traumatization of children. Although CEO Satya Nadella released a statement last week positioning himself and the company in opposition to the family separation policies of ICE, Microsoft has continued business as usual and is supporting the Trump administration's brutal enforcement efforts under the contract.
And our flyer game is on point. pic.twitter.com/mDsWTZYoEY

— Seattle DSA? (@SeattleDSA) June 28, 2018
"Many of us became tech workers at Microsoft because we wanted to build services that improve people's lives, not to support brutal government agencies that put children in cages," said Jeffrey Atkinson, a former Microsoft worker and Seattle DSA member. "Over seventy years after IBM built the demographic tracking technology necessary for Germany to perpetrate the Holocaust, those of us in tech should know better than to enable the surveillance and internment of people based on ethnicity or origin. Although Microsoft CEO Satya Nadella says that the company doesn't support the separation of children from their families, ICE wouldn't spend over $19M on services that aren't mission critical. It's clear from the size of the contract that it must include custom development work to enable ICE's functions, not just off-the-shelf email, calendar, and document capabilities. Microsoft must do the right thing: listen to its workers and drop ICE as a customer."
Since posting the open letter to Nadella last week, over 400 employees have added their name demanding that the contract with ICE be cancelled, that Microsoft adopt transparency in its contracting process, that the company respect workplace democracy and free speech, and that they refuse to work with agencies that violate human rights.
"As a current Microsoft employee, I'm here to stand in solidarity with my coworkers against ICE," said Microsoft intern Brandon Geren. "Tech workers like me shouldn't have to support government agencies separating parents from children and putting them in concentration camps. CEO Nadella says that Microsoft isn't directly involved with family separation, but the company's cloud, AI, and infrastructure software definitely help ICE accomplish their heinous goals. As an intern, I will not be accepting a return offer from Microsoft if they continue with this contract and refuse to listen to their workers."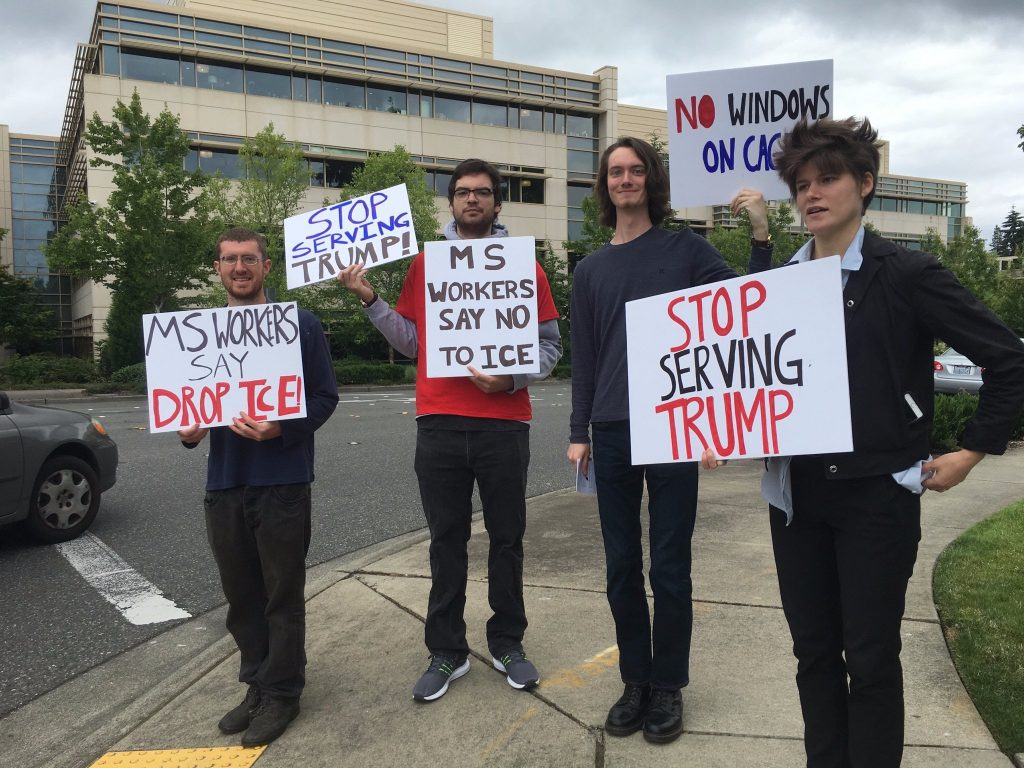 The immigrant and refugee internment apparatus is a multi-billion dollar industry benefiting private prisons and government contractors like Microsoft, who bragged in January, "(ICE) is currently implementing transformative technologies for homeland security and public safety, and we're proud to support this work with our mission-critical cloud."
Microsoft workers and the members of Seattle DSA are united in demanding that the company terminate their relationship with ICE and any agency that violates human rights immediately.