This week: Gov. Inslee's office extols prison labor, SDOT has a love-in with rideshare apps, the "Justice" Department sues to stop Washington from helping sick workers, EMTs and Facebook workers fight the boss, and Durkan-Constantine go full Seattle Process.
Editor's Note: The Hellhole will be taking 2 scheduled weeks off to celebrate Saturnalia, look for the next edition January 11, 2019.
Gov. Inslee's Office Brags About Prison Slavery
This is a thing we had to write in 2018. The Governor's office is apparently referring to prison as "another form of state housing" not unlike the "Executive Residence." No wonder the Democrats haven't made a dent in the state housing crisis. Oof.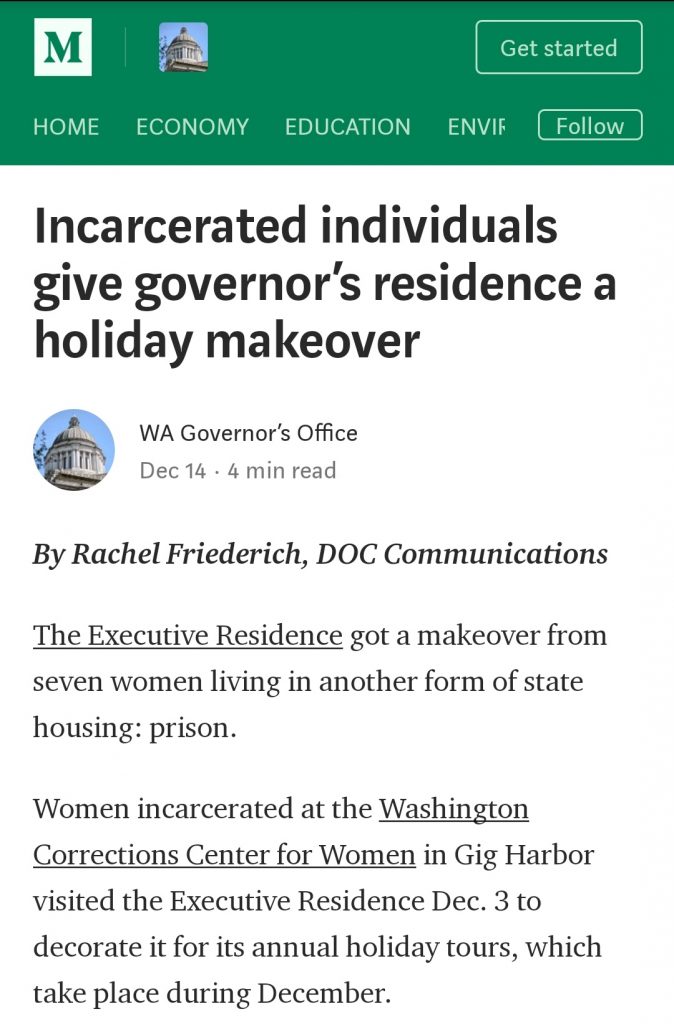 While private employers in Washington are (finally as of this year) barred from asking arrest or conviction questions until after otherwise seeing how qualified candidates are, there's still an uphill battle facing womxn on the outside. Landlords can block tenants in most of the state from renting based on prior convictions (even without a safety need). Not to mention … unpaid or minimally paid prison labor is an overall societal bad?
So, while Gov. Jay Inslee's office brags about coerced prison labor, he also started a PAC to run for President in 2020. Oi to the world!
American Medical Response Paramedics Strike Postponed
Seattle and King County EMTs temporarily averted a strike to start December 21 at noon. AMR was attempting to bring in hundreds of scabs to keep up business during the strike, but were unable to get approval from the city and county for the scabs to work. Solidarity from firefighters, paramedics, and the Labor Council were also a factor in pushing the government to do the right thing. It's important to keep up the fight while they return to the bargaining table.

Workers' demands are straightforward: increase pay beyond just a single dollar above minimum wage. There's almost 50% turnover each year due to low wages. Valuable skills and decent people are lost. Those that stay are committed, but their patience and dedication is not without a demand: a dignified life.

The last proposed contract garnered 310 NO votes to a mere 46 YES. It's time for AMR to do better, and start bargaining in good faith. Lives are at stake and the public can't afford not to pay workers providing such an essential service.
How can you help? Listen to their demands:
Change your facebook frame, search "Support Seattle EMT"
Call your Councilmember & the Mayor (be sure to mention actions the workers recommend public figures take)

Mayor Jenny Durkan 206-684-4000
Bruce Harrell 206-684-8804
Rob Johnson 206-684-8808
Lisa Herbold 206-684-8803
Sally Bagshaw 206-684-8801
Mike O'Brien 206-684-8800
M. Lorena Gonzalez 206-684-8802
Debora Juarez 206-684-8805
Teresa Mosqueda 206-684-8806
Kshama Sawant 206-684-8816

Share your stories of how EMTs have touched your life
"Justice" Department Sues Washington State over Sick Pay
The dullards in the "Justice" Department sued Washington State for making it easier for Hanford site workers to get compensated for illness and injury. A well-known fact is that the Energy Department recruited countless Black workers as far back as the 1940 to suffer exposure in the dangerous work. Tens of thousands of Black workers left the Midwest and South during the Second Great Migration for the opportunity at stable, union, government job out west.
This move is yet another in the fight to tear down worker compensation across the board. The waters get tested here. If the waterline moves, it'll ripple throughout every industry. If you go home grateful that your work-weary hands and aching knees have rest, know that it's precedent like this that protects you. Everyone from farmworkers to firefighters fighting the effects of climate change are hurt. An injury to one is, indeed, an injury to all.
Seattle DOT plugged ride-sharing versus bus fare. Why?
Even the interior logic to this tweet doesn't make sense. A $2.75 tip via rideshare won't get you far at all — not to mention that bus fair TRANSFERS to light rail. Add in that rideshare makes congestion worse and adds to the commute for everyone and it's particularly dense.
It's part of that greater trend of plugging band-aid, private solutions to pot-hole sized public problems: from transit infrastructure to financing it all together with corporate banks.
Designating an I-5 lane to ride-share won't lead to a statewide New Transit Deal. We need to look at what the Transit Riders Union is demanding: no-cost transit, adding new rail lines, and thinking beyond convenient parking. As more of Seattle is kicked to the curb by the capitalist class, we need to ensure everyone has shelter and a warm ride home. That's what could make Seattle genuinely safe.
Seattle Mayor and County Executive Form Underwhelming Duo to Aid the Unsheltered
As we said about transit, fragmented responses to an epidemic will not work. Housing is a structural issue under capitalism. Profit motives corrupt everything from land use, to guaranteeing housing as a right, to community sovereignty. We've raged against the private property and housing finance machine before. So why rage this week as the private foundation Durkan and Constantine hired recommends creating a regional agency to help the unsheltered?
Well, for starters, the group's report does not set specific goals, detail why consolidation will result in better outcomes, or outline the costs. And there's no expectation that the number of vendors and landlords profiting off the top would be reduced.
Without a radical funding mechanism for housing (like taxing the behemoth tech giants taking up all the real estate); with no looking beyond the paint-by-number lines of capitalist reforms; and with no accountability beyond the frame of the camera lens, Seattle stands to do the people wrong, especially when accounting for by race, gender, class, and immigration status.

As former DSHS head Kevin Quigley noted in an interview to State of Reform, "[Washington has] a perception of ourselves as a liberal, progressive state (and we have a lot of laws on the books that look that way) and yet we're two ranks below Mississippi on how we fund things, so we're not getting it [done]."
Facebook Might've Sold Your Private Messages to Businesses Who Could Read and Delete. And they're threatening workers.
Facebook let businesses slide into your messages and read/delete/forward/laugh at them. Like all things, there's profit to be made when everything from education and childhood, to even your scrapbook are monetized for the highest bidders at your expense. Billionaires have taken over the State already, and now bosses want to control and benefit from your personal life. It's creepy. But Facebook doesn't stop at stealing data alone.
Facebook, as a joint employer with contracting firm Filter Digital, is strong-arming over 20 local workers who are being told to accept low wage subcontracting offers or lose their jobs—just in time for Xmas. Zuck won't stop until every ounce of profit from consumer to worker is wrung dry.

From the workers' letter: "Many of us work second jobs, have subpar living arrangements, and/or cannot afford necessary medical care for ourselves and our families … Many are simply one emergency away from possible homelessness."
There's tremendous utility in what Facebook could be if it were democratically and publicly owned and operated without profit. It's not that Facebook (the corporation) will democratize the web; it's that the public and the workers' must democratize Facebook before it does more harm to our society.
Joe Biden's not my uncle
Hillary Clinton was not my abuela. Joe Biden is not my uncle. But beyond their lack of relation to us, they have even more in common. Watch this speech by Biden defending the ruling class as "patriotic," and see how both corporate candidates enjoy a public bootlicking.
Note: The Seattle Hellhole represents the views of its writers and does not represent official positions of Seattle DSA at large. Its writers are a collective working on independent pieces, editing, and design to deliver this each week. If you want to volunteer, join us in #wg_comms_design on Slack or email [email protected]