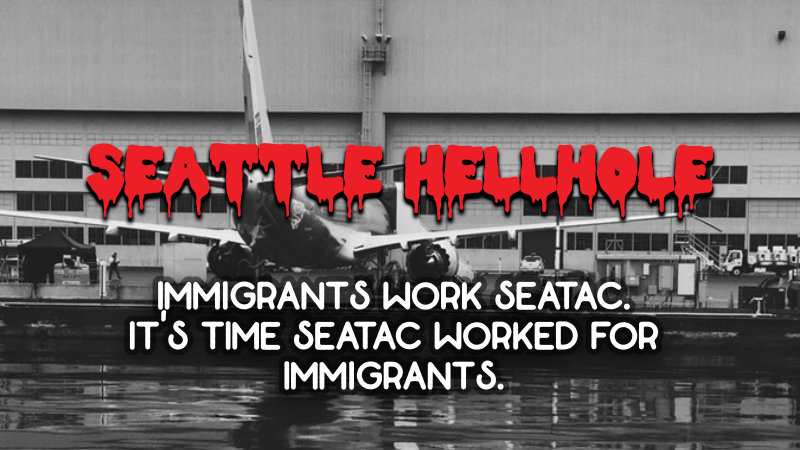 Cowlitz tribal member and high school runner finds a platform on the podium.
Rosalie Fish, a Cowlitz tribe member and track athlete at Muckleshoot Tribal School, competed with red face paint of a handprint and the acronym MMIW on her leg, standing for Missing/Murdered Indigenous Women. The Seattle Metropolitan area has the highest rate of violence, murder, and disappearance of indigenous womxn. Rosalie won first at State for 1B, winning first in the 1600 & 800 and second in the 400. Placing at the podium, she wore a shirt critiquing the Declaration of Independence's slur "merciless Indian savage" It's local history now and every bit as important and invoking the legacy of anti-colonialism and anti-imperialism as the 1968 Olympics black power salute or fellow runner Jesse Owens' win in Berlin.
Read her story in her own words:
Amazon hires bad Washington state Senator
Amazon just hired state Senator Guy Palumbo, who helped preserve non-compete laws while also blocking capital gains and income tax. What's significant is that Guy seems to have quit his job in the Senate to take the job. As Crosscut's Melissa Santos points out, that's illegal in other states, but Washington doesn't have a "cooling off period" between being in government and lobbying for a online-retail monopoly. Amazon's leadership feels so comfortable with Washington State Democrats that they treat it like a farm club for future talent.
Labor is the only thing most workers have to sell. When companies hold all the cards they can wield that power to coerce you to work longer hours, for less, and in more horrific conditions. Amazon is approaching it's zenith. Is Seattle their company town? Are Bezos bucks the new company scrip?
Support SeaTac's Immigrant Community in its Final Showdown Against Displacement
Despite protest, last September the SeaTac City Council voted to sell off the Bakaro Mall — a shopping center made up of mostly immigrant & refugee-owned small businesses — to a private developer. The sale was made without any compensation to the current businesses residing there, putting the livelihoods of an entire community at state.
None of this is happening in a vacuum. If you haven't been following the ongoing saga of SeaTac, the largely Caucasian leadership of this minority-majority city seems to have a few issues with race. Two years back, a judge determined the former mayor sought to intentionally gentrify Somali refugees out of his neighborhood. The former city manager wanted to create a map of all Muslims living within SeaTac. The current mayor is a Trump fangirl. When Councilmember Amina Ahmed tragically passed away back in December, the rest of the council moved to replace her without consulting the Somali & Ethiopian immigrant community she had come to represent. (Many rallied around Teamster Takele Gobena who was passed over initially but now runs against an incumbent on his platform for rent control, worker rights, equitable development, and democratic participation of all SeaTac residents—especially the African diaspora long-ignored by the city).
Immigrants built SeaTac. Immigrants feed Seatac. Immigrants are caregivers for SeaTac's elderly. Immigrants drive this city on a number of levels.
The community is mounting a last-ditch legal effort alongside CAIR to preserve Bakaro Mall from final eviction (currently set as August 31).
---
Note: The Seattle Hellhole represents the views of its writers and does not represent official positions of Seattle DSA at large. Its writers are a collective working on independent pieces, editing, and design to deliver this each week. If you want to volunteer, join us in #wg_comms_design on Slack or email [email protected]