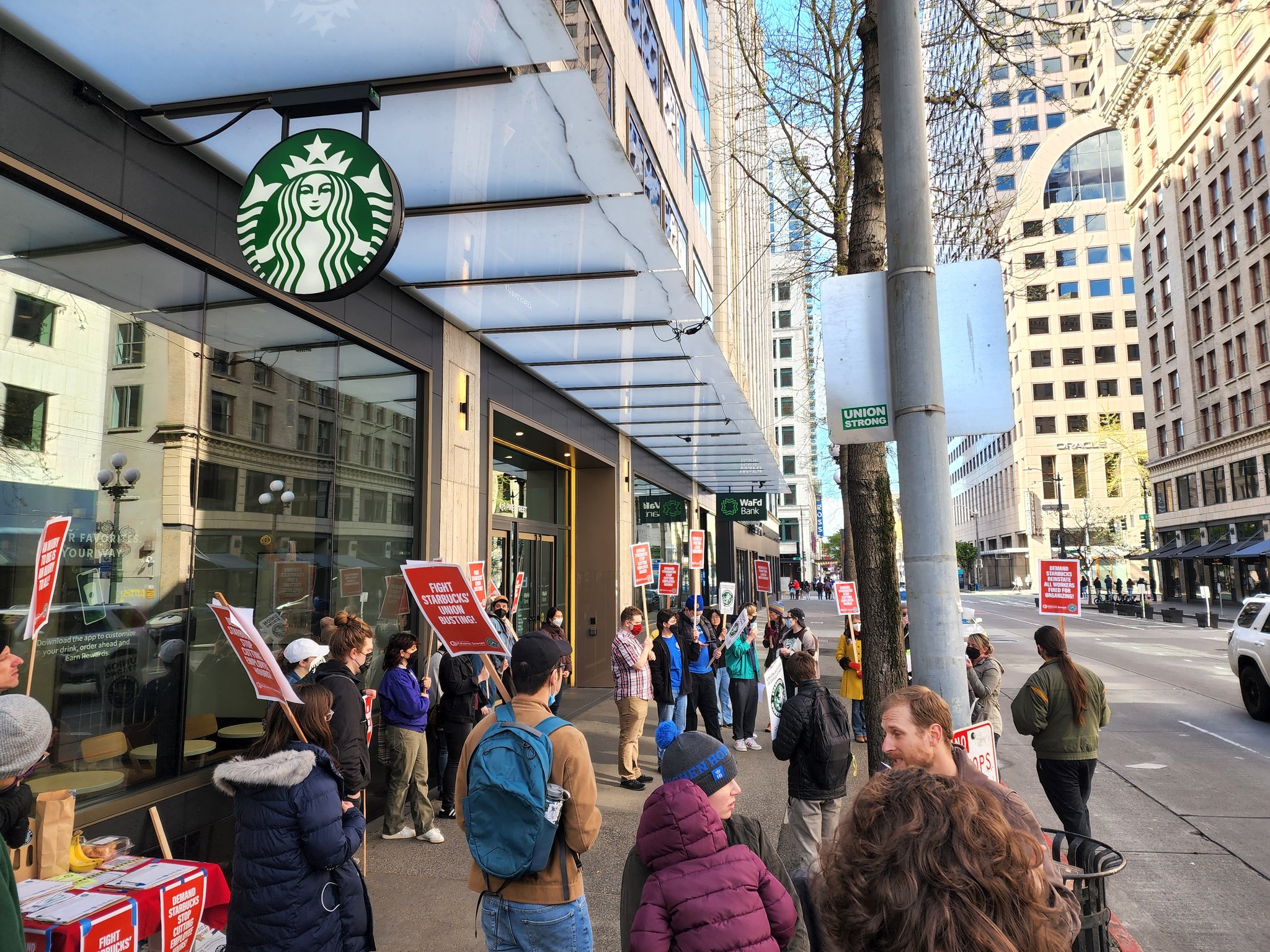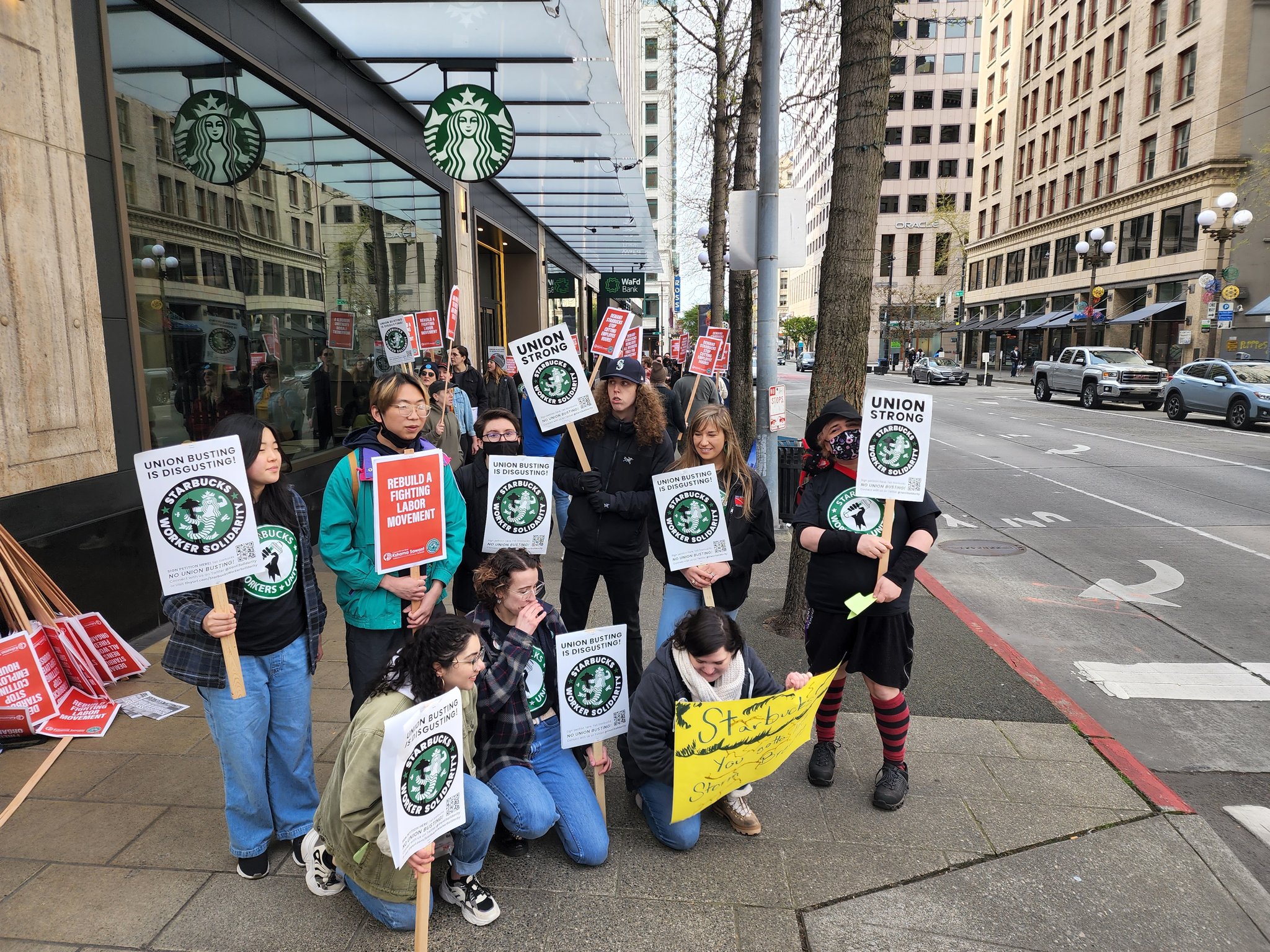 I had an awesome weekend coming down from Anchorage in solidarity with striking Starbucks partners in Seattle! I'm so grateful I was able to join these workers on the picket lines.
The importance of this weekend's Starbucks strikes can't be overstated. Actions by Starbucks corporate executives retaliating against workers organizing to protect their livelihood warrants direct action. Calls by Starbucks workers across the country for employer responsibility to workers' rights, safe working conditions, and wage increases to meet inflation, have been met with illegal union busting tactics bankrolled from recent Starbucks net profit earnings of over $4 billion. What do Starbucks workers do when under attack…? (Hint: Stand up, fight back!)
On Thursday afternoon I got an email from Seattle DSA about planned strikes. Knowing this was a significant labor action in the hometown of Starbucks, and an opportunity to demonstrate solidarity as a DSA member, I made it down to get on the picket line Friday afternoon at the Eastlake Ave Seattle Starbucks location. I met some courageous workers who have been experiencing disgusting union busting practices by Starbucks management. I met volunteers from Seattle Socialist Alternative, and I met Sunny, a Seattle DSA organizer who's attended our Anchorage DSA virtual meetings to share valuable organizing experience with our chapter.
There were about 30 or so supporters at the Eastlake Starbucks location when I arrived early in the afternoon on Friday. That morning the workers informed their store manager they were going on strike and provided a list of demands. Each of the workers I talked to had a personal story about how working conditions had deteriorated over the past couple years. Repairs following a recent fire at their building have left the security of the store less than adequate. Workers' hours have been cut while work schedules have become less reliable. Since the workers filed to unionize there has been clear retaliation; one of the store's favorite partners, an employee at Eastlake Starbucks for over 12 years, is threatened with firing for their organizing efforts. The workers at the store have had to institute a best practice for themselves of only talking with management when another partner is present because the coercive pressure by managers to undermine their organizing is so untenable.
I met Elizabeth, Ian, and team supervisor Jake on the picket line at Eastlake. Their expressions of concern for one another and the community they serve was humbling. I could see too that their work together to unionize their workplace, organizing to stand up to unfair labor practices, has empowered them in solidarity.
One customer I spoke with, a nurse who stopped by for coffee but found the store closed, was impressed by the comradery of the active participation. Elizabeth explained to them why they were striking over unfair labor practices. The customer responded that they're going to check in with their own union local when they returns to work.
Saturday morning I joined the striking Starbucks workers at the 5th & Pike store. Starbucks workers from the Lakewood Crossing Starbucks store in Marysville were there in solidarity after having a successful 3-day strike the prior weekend at their store (WHOSE STORE!?). When the workers at 5th & Pike walked off at about 9:00 am Saturday to strike, store managers stepped up to try and do the work of baristas but business quickly slowed to a stop. Apparently mistreated workers walking out together, picketing in front of the store with chants and signs, and calling out union busting, has an impact on customer traffic.
Saturday afternoon we rallied for a postering event at Cal Anderson park in Seattle's Capitol Hill neighborhood. We heard from Starbucks worker organizers that got us fired up and then we went out in teams to put up hundreds of posters calling for Starbucks worker solidarity throughout the community.
While at the postering event I found out about the organizing for April 23rd, with Starbucks workers from around the country coming to Seattle in a demonstration of solidarity for all Starbucks workers fighting for a union. I decided then to extend my visit so I could support the April 23rd event. I'm excited to meet more of the Starbucks workers who are leading a labor movement inspiring workers around the world.
On Easter Sunday the picketing continued at 5th & Pike. There was plenty of foot traffic with the Sakura-Con 2022 convention a couple blocks up the street. We got a kick out of the sign management put in the window knowing that this would be another day of worker strikes. The sign read "New Holiday Schedule…" Ha! Very new schedule!
The Starbucks workers striking for fair wages and working conditions, the community members and union locals joining them, and the support from Democratic Socialists of America and Socialist Alternative volunteers was a demonstration of love and solidarity that has inspired me. It's an experience in organizing that all of us, struggling under the oppression of a capitalist economy designed to exploit people and the planet, should seek out and foster.
I'm a member of Anchorage Democratic Socialists of America where I've recently taken on my first leadership role as the chapter secretary and a member of the steering committee. The first issue that our chapter prioritized under this new steering committee is the need to support organized labor. We understand that when workers exercise their right to organize they can take a degree of control over corporate outcomes and become the powerful influence we need to build a mass movement for socialist policies.
-Raymond, Anchorage DSA
(Editor's Note: Raymond came down from Alaska in solidarity with Starbucks workers, after hearing about the Starbucks workers strike from Seattle DSA labor. Starbucks workers and Seattle DSA appreciate this wonderful comrade!)