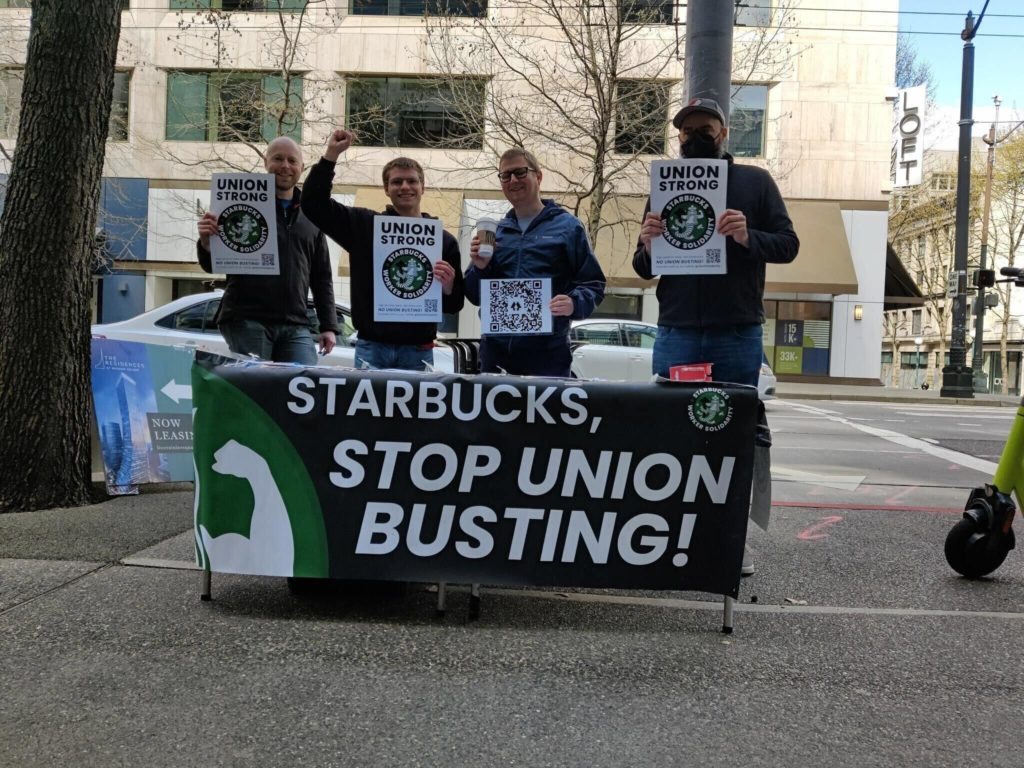 We had a great time tabling on Sunday at the Starbucks at 5th and Pike! We had six SDSA comrades come out to talk to Starbucks customers and passerbys about the union drive at Starbucks, collect solidarity pledges, and raise money for the PNW Starbucks worker relief fund.
A shift leader at the store came out to tell us how much he appreciated seeing us out there and to report that, despite Starbucks managers putting workers through the ringer, he believes there is near, if not completely, unanimous support for the union at 5th and Pike! Lots of Starbucks customers and passerbys were excited to talk to us about unionizing Starbucks and Amazon! We met many union members who were stoked about Starbucks and Amazon workers organizing and whose unions were abuzz with talk about workers taking on two of the biggest corporations in the world!Help spread the word about Starbucks workers rising up and fighting back!
Join the Starbucks Solidarity Campaign this week for more solidarity actions! Come Wednesday, from 5:30-7pm, for tabling and postering at the Capitol Hill Starbucks on Olive. Or, join our Wednesday night phone bank of Solidarity pledge signers from 7-8:30pm to raise $ for the PNW Starbucks relief fund and encourage participation in other solidarity actions. Then, stop by College Inn on Thursday from 6-8pm for our fun Suds & Solidarity social and poster! You can find all upcoming Starbucks Solidarity events on the SDSA calendar.