Last Sunday, nearly 100 people – the vast majority being Starbucks workers – walked the picket line at the iconic Starbucks Roastery in Capitol Hill. Over the whole weekend, starting on Thursday and culminating on Sunday with this big walkout at the Roastery, Starbucks workers went out on strike at 4 stores in Seattle. The workers were protesting Starbucks closing 5 stores in the hometown of the international corporation – 2 of which were unionized – and management's refusal to begin the legally required bargaining process with Roastery workers.
While the entire weekend was a show of strength, the strike at the Roastery was the most powerful. The Roastery is the crown jewel of Seattle Starbucks, and hold a special place in Starbucks' line up of stores – there are only 4 Roasteries in the US. It's also the brainchild of Howard Schultz and where he regularly gets his coffee. On an average weekend day the store makes $50,000 to 60,000! And with over 100 workers, it's the largest workforce at a single location.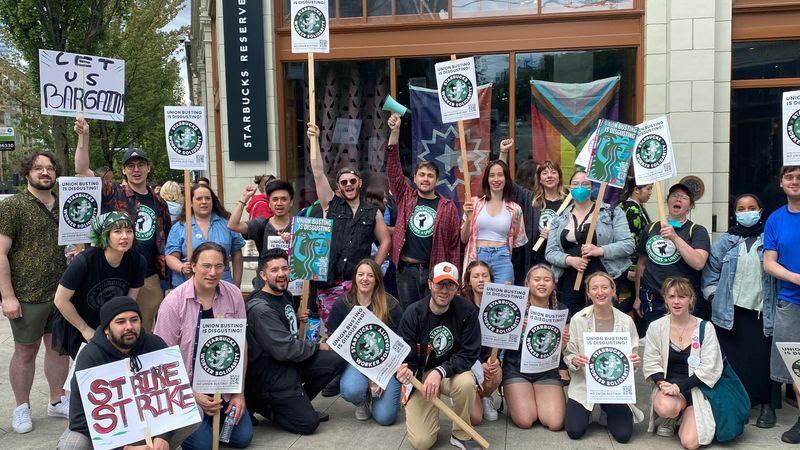 And they shut it down!   Nearly 80% of the 60 Roastery workers scheduled that day went on strike! The Starbucks Rostery was forced to close early, costing them thousands of dollars. But more importantly, it was an escalatory action that brought newly radicalized workers into collective militant action, workers who had never been on strike or taken any workplace action before. Moreover, it was coordinated across multiple stores and drew Starbucks workers from Olympia and Marysville. 
 I talked to many workers while on the line, one of whom said that at first they were lukewarm on the union –  not sure if it was actually needed.  However, the actions of Starbucks top management tore asunder the mask of progressivism that the corporation adorns, revealing the true cruelty beneath – the true visage of Starbucks' top management –  cruel and motivated by one thing and one thing only: profits. 
It's impossible to not see the store closures and the refusal to bargain as anything other than Starbucks' ruthless determination to crush the unionization effort by Starbucks workers at all costs. Billionaire Howard Shultz has repeatedly said Starbucks would never accept a unionized workforce, most recently in June of this year saying during an interview that he couldn't see Starbucks "embracing the union".
Allegedly, the stores were closed out of "safety concerns". If Starbucks was so concerned with the safety of their workers they wouldn't have forced them to work during the pandemic, would have paid them hazard pay, and wouldn't be viciously fighting against what their workers are demanding: living wages, guaranteed healthcare, and guaranteed hours. The reality is that keeping worker's wages low, benefits out of reach, and making one person do the job of 2 (for the pay of one) is precisely where Starbucks' profits come from ($4,000,000,000 in 2021!). It's clear Starbucks is only concerned with safeguarding their profits, not the safety of the Starbucks workers. When it comes down to it, Starbucks doesn't make lattes, it makes profits. And they'll do whatever it takes to protect those profits, from intimidation, firing workers, to closing stores.
The Starbucks workers this past weekend and in the months leading up to this weekend have shown what needs to happen to win a strong contract – collective coordinated workplace actions across multiple stores.  To turn up the pressure further, it would be powerful to extend this to other stores in the region – a regional coordinated day of action. Starbucks workers are the tip of the spear of a newly energized labor movement.   Seattle DSA members and community members provided critical strike support all weekend, bringing supplies, walking the strike line, chanting, and talking to customers. 
It's imperative that we, as socialists, community members, and union members, continue to support their efforts by standing shoulder to shoulder on the strike line and by donating to their strike fund. Please make a donation today. Please also sign the #NoContractNoCoffee pledge and share it with 5 friends!
In solidarity,
Bryan W
Co-chair of Starbucks Worker Solidarity
P.S.
This also happened: