In October our chapter voted to hire two part-time staff members – a major milestone for Seattle DSA. In January, Guillermo Zazueta began work as our new Campaign Organizer, and Ty Moore stepped in as our new Communications Organizer. The two staff will help activate our 1,500 members, build our presence in South King County, and ramp up our chapter's communications and media. Check out their bios below.
Guillermo Zazueta is Our New Chapter Organizer
Guillermo is a local, raised in South King County. He attended the University of Washington in 2015, and has since been participating actively in campaigns both big and small.
"My introduction to DSA began as a volunteer with the Bernie Sanders 2020 Primary Campaign, later working with the 2020 Census as Lead Enumerator. My passion for community and electoral organizing comes from a core belief that societal change can (and must) be made through organizing and mobilizing communities to the ballot. My later work with Stephanie Gallardo's Campaign for Congress as Field Director, then afterwards as Campaign Manager for a ballot measure, King Co. Prop. 1, aimed at restoring critical funding for environmental conservation programs, has solidified my interest in organizing in my community and building DSA. These experiences have transformed me into a hardened field organizer and campaign manager.
"I am a recent fellow with the Institute for a Democratic Future, a Washington-based fellowship program that prepares aspiring progressive leaders with the knowledge and tools to make change. In my role as Chapter Organizer for Seattle DSA, I will remain grounded in my commitment to lead the effort to expand membership and participation in South King County, whether it is by leading up ballot initiatives, partnering with local unions, or working with local leaders to bring about meaningful change for working class communities. It will also be my priority to support ongoing organizing efforts within Seattle DSA, support internal mobilization of our current membership, participate in fundraising efforts, and engage with working group leadership and support their ongoing efforts.
"Ultimately, I hope to become a good ambassador for the values and shared vision we all share as socialists fighting to end capitalist exploitation, fighting to win a world organized by the working class, and fighting to question the fundamental causes of all forms of injustice in our communities."
Ty Moore is Our New Communications Organizer
With over 25 years of experience building the socialist movement and working-class campaigns, Ty is excited to put his skills to work to strengthen Seattle DSA.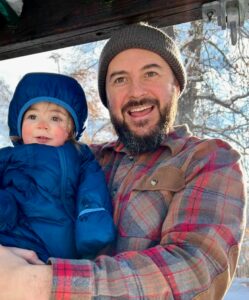 "As a new father, my determination to win a socialist world for the rising generations has only grown. I grew up in Washington State and got active in socialist politics as a student at Seattle Central, before moving to the Midwest and spending 15 years organizing as a socialist in Minneapolis. There I played a central role in the housing justice and labor movement, initiating 15 Now Minnesota which led the fight to make Minneapolis the first non-coastal city to win a $15/hr minimum wage.
"Since returning to Washington in 2016, my organizing work has focussed on housing justice. I helped launch Seattle DSA's Housing Justice Working Group and, after moving to Tacoma in 2021, I was elected as TDSA's Campaign Coordinator and initiated our central campaign here, "Home in Tacoma for All." With backing from organized labor, we are leading the effort to win a "Tenant Bill of Rights" ballot initiative in 2023.
'Until last month, I was a union organizer with WFSE and helped initiate the ongoing organizing drive at the Tacoma Art Museum. While disappointed to leave that work unfinished, I'm eager to bring my years of experience with socialist media and campaign communications into SDSA. With all of you, I am excited to transform DSA into a powerful force for working class liberation!"