A Statement from Seattle Democratic Socialists of America
"We are all in this together" has become the rallying cry for most politicians during the COVID-19 crisis. However, the coronavirus has put a spotlight on the best and worst of our society. While some people are putting their lives on the line to work in hospitals and other essential services, others are using this crisis to make a profit. Landlords are raising rents, politicians are enriching themselves through insider trading, and big corporations are benefitting from the bailout package. Meanwhile millions are losing their income and their health insurance, and are waiting for a stimulus check that may not even cover the rent.
The virus can infect anyone, yet its impacts are as deeply divided by class, race, and gender as the capitalist society in which we live. The virus is hitting Black communities hardest. Women are trapped in situations of domestic violence while in self-isolation, and are disproportionately tasked with increased childcare and domestic duties. No, we are not "all in this together." We are in a battle against the billionaire class, and we are fighting for our lives.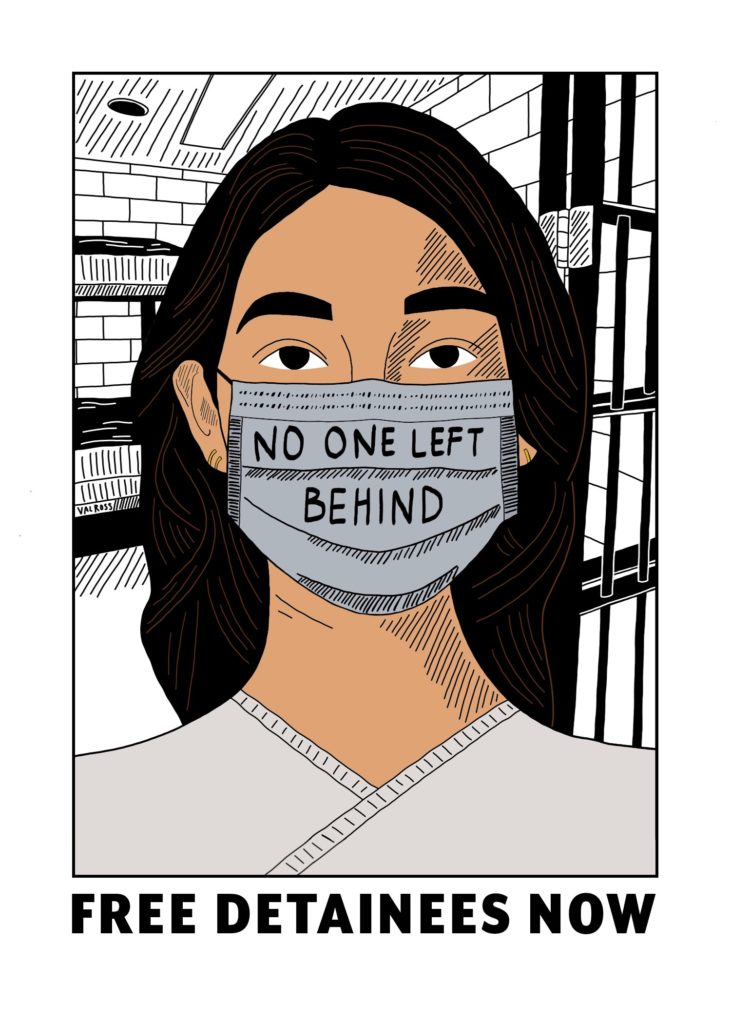 What We're Fighting For
From the start, Seattle DSA members have engaged in mutual aid, sewn masks for workers, shopped for neighbors, and organized for rent relief. We are part of the substitute educators' struggle to get paid by the school district during this crisis, and have demanded Governor Jay Inslee implement a rent suspension. We continue to stand with workers, including Amazon workers who are demanding protection and hazard pay.
Seattle DSA is organizing to defend working-class and oppressed people in this crisis, and to fight for a recovery based on the needs of the many, not the few. We are calling for:
1. Rent and Mortgage Relief
Cancel rent and mortgage payments. Bring vacant rental units into public ownership to provide housing for people who are experiencing homelessness.
We have already won a temporary freeze on rent increases, a ban on late fees, and an eviction moratorium. In effect, we've won temporary rent control, which is a step in the right direction. But we need to go further. Our members and neighbors who are currently experiencing homelessness need to be immediately housed.
Many renters have been unable to pay April and May rent, and this debt should be forgiven. We support Ilhan Omar's proposal to cancel rent and mortgage payments, but any relief fund for landlords should be paid for by big business and the rich. We call on Governor Inslee to implement rent and mortgage cancellation at the state level, along with lifting the state ban on rent control and enacting "Just Cause Eviction" tenant protections.
Many of our members are organizing in their own buildings as well, fighting for demands from free laundry to rent cancellation. You can get involved by joining our Tenant Organizing Collective, which meets weekly to build power at home.
2. Immediate Relief for Low-income Seattle Residents
Tax Amazon to provide immediate relief of $500/month for 4 months to 100,000 Seattle residents.
City Councilmembers Tammy Morales and Kshama Sawant are putting forward this proposal in the Seattle City Council, paid for by a tax on Amazon and Seattle's 800 richest corporations. For more information visit: www.GreenNewHomes.org
3. Medicare for All
Free COVID-19 treatment for all. Free healthcare for all at the point of delivery.
Reports show that even during this crisis, healthcare facilities are refusing to provide care to people who are not insured. Others do not go to a doctor in fear of the expensive medical bills they might face, or due to fear of deportation. This is unacceptable. We need Medicare for All.
4. Workers Rights
Hazard pay, personal protective equipment, and union rights for all workers who are asked to keep working. Paid sick leave for all.
From Amazon to schools to restaurants, workers across the country are standing up for their rights, for the protection of their health and their community. Workers are staging sick-outs, strikes, and pickets, and they are winning their demands. Many of our members are fighting in their workplaces.
Union members and labor organizers from DSA and the United Electrical Union have partnered to help workers organize during this moment of crisis: to start petitions, to connect with other workers, and to approach management. If you want or need help organizing your workplace against COVID-19, fill out this form.
5. End Mass Incarceration
Release all non-violent offenders. Close the Northwest Detention Center.
During this crisis people are still imprisoned just for entering the country, for minor drug offenses, or for being black in a justice system built on mass incarceration. Under COVID-19, imprisonment is a potential death sentence. We must rally in solidarity with the heroic detainees in the Northwest Detention Center who have organized at least 3 hunger strikes during the COVID-19 crisis. Join our Immigration Justice Working Group, which has continued to support the work of the WA Immigrant Solidarity Network (WAISN).
6. Defend Social Services — No Bailout for the Rich
Democratic public control over all corporations receiving bailouts and corporate welfare.
No budget cuts to social services, education, or climate action. Tax the rich and big business to fill any budget deficits for necessary social services.
7. A Green New Deal to Create Jobs for the Unemployed
A Green New Deal to restart the economy with job guarantees for all, Medicare for All, and a program to achieve zero net carbon emissions within 10 years.
In Seattle we can take an immediate step by passing the $300 million/year Amazon Tax to build social housing. Our Seattle DSA campaign GreenNewHomes.org is moving forward to do our part in this struggle. We support maintaining Fare-Free Transit for King County. As we rebuild our economy, everyone must have guaranteed living wage employment and a publicly provided low- or no-carbon means to commute.
For Socialist Policies to Reorganize the Economy
The Congressional stimulus package includes some urgently needed relief for working people,such as the $600 per week increase in unemployment benefits that Senator Bernie Sanders fought hard to secure. However, the biggest part of the stimulus package ($4 trillion) is a gift to Corporate America, and does not include job guarantees or democratic, public control over these companies.
The battle over how to recover from the current economic collapse has already started. Who is going to pay for this crisis? Will it be the rich and large corporations, or will it be working-class and oppressed people?
The Green New Deal proposed by Alexandria Ocasio-Cortez and others is needed now more than ever. It provides a job guarantee for all, Medicare for all, a just transition with a focus on marginalized communities, and a plan to reach zero carbon emissions within 10 years. The Green New Deal is a massive public investment program designed to create good-paying, union jobs in order to secure a future for humanity and the planet.
Winning the Green New Deal will require taking on the most powerful interests in the world. The pharmaceutical industry and insurance companies stand in total opposition to Medicare for All. The fossil fuel industry is fighting for their profits to be prioritized over the health of billions of people and the planet. Wall Street will use their full power over the economy and the politicians of both major parties to protect their profits, no matter what this means for the rest of us.
This is why democratic socialists believe a fundamental break with capitalism is necessary. We fight for each and every improvement in the lives of the working class and oppressed people. However, a just society will not be achieved until we overcome the power of big business and establish a truly democratic, socialist society. The crisis unleashed by COVID-19 highlights the urgency of this struggle. Join the struggle to defend working-class and oppressed people in the COVID-19 crisis. Join our fight for democratic socialism!
For up to date information on the crisis, sign up for DSA's COVID-19 news bulletin, and check out the Seattle DSA calendar for more upcoming events and meetings.