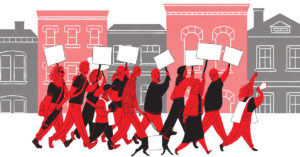 THIS IN-PERSON MARCH WILL BE *STRICTLY* SOCIALLY DISTANCED. MASKS REQUIRED.
Over the years, Amazon has turned Greater Seattle into a city completely unaffordable to ordinary people. Yet while Amazon's workers struggle to make rent, and 225,000 Washington families are in danger of being swept up by an "eviction tsunami" when the eviction moratorium expires March 31st, Bezos has earned enough money to give each of his workers $150,000 bonuses and still be as rich as he was before COVID. 
That's why King County Labor Council, Tenants Union of Washington, 350 Seattle, Amazon Employees for Climate Justice, Transit Riders Union, UNITE HERE Local 8, Seattle Democratic Socialists of America, and others are uniting in solidarity for a rally and march on February 20th.
This is part of a national day of action to support the union drive of Amazon warehouse workers in Alabama, as well as to demand the state legislature pass the strongest possible tenants rights protections, while thousands of Amazon workers and others struggle through COVID to stay afloat.
We'll begin with a rally at the headquarters of a corporate landlord lobby group, the Multi-Family Housing Association, one of the most vocal opponents of vital tenant rights legislation in the Washington State Legislature right now — and make our way to the Amazon Flex warehouse a few blocks away.
We're demanding:
Governor Inslee extends the moratorium until we can guarantee a dignified solution to all unemployed and lower-income workers unable to access quality affordable housing!

Pass a "just cause" eviction protection and bar landlords from evicting tenants for back rent accrued during the moratorium (SB5160)!

Establish a one-year rent freeze following the moratorium (SB5139)!

We need a green jobs program to rapidly build tens of thousands of affordable homes, statewide rent control, and permanent "just cause eviction" protections! 

Don't hollow out the Seattle Amazon Tax! We need progressive taxes to solve our housing crisis.

Amazon: quit your union-busting campaign!
Show up to support unionizing Amazon workers and desperately needed progressive housing legislation!