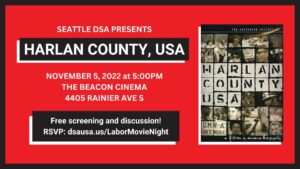 Saturday, November 5 at 5PM
The Beacon Cinema, 4405 Rainier Ave S
In the summer of 1973, the coal miners of Harlan County, Kentucky went on strike. Over the next thirteen months, their lives were turned upside-down by the company's violent attempts to break it.
Join your Seattle DSA comrades, fellow workers and friends for a screening of Barbara Kopple's Oscar-winning 1976 documentary about the strike, Harlan County, USA at the Beacon Cinema in Columbia City! After the movie, we'll head to a bar to hang out and discuss what it can teach us about our own labor struggles.
This event is open to the public, and will be great for new and prospective members to get to know each other — so be sure to invite your friends!