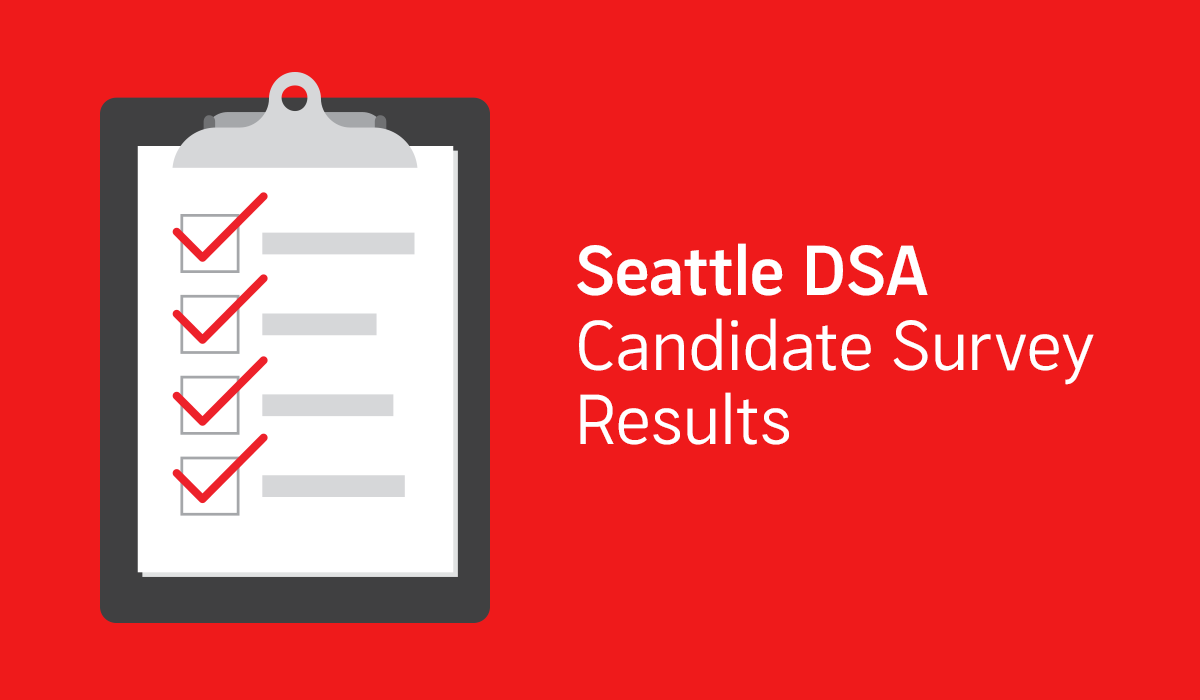 UPDATE: During the May general meeting, Seattle DSA members voted to endorse housing activist Jon Grant for at-large City Council Pos. 8. Read more about the endorsement here. At the June general meeting, members voted to endorse educator and lawyer Nikkita Oliver for mayor of Seattle.
Seattle is fortunate to have an active political climate that produces several candidates competing for leadership positions. This upcoming November, Seattleites will vote on candidates competing for Mayor of Seattle as well as at-large city council positions 8 and 9. All three positions serve four-year terms.
Recognizing that voters run the risk of becoming mired in evaluating candidates based solely on resumes, media appearances or vague associations of one's own, the Seattle Democratic Socialists of America's Activism and Communications Committees produced a 13-query survey to help cleave local candidates' views into discernible positions on issues that are vital to socialists and, we believe, the public at large in 2017.
Candidates who filed earlier than March 8 received their questionnaires that same day and were asked for answers by April 8. We contacted the campaigns of those filing later — usually on the day of announcement — and asked for their participation as well. For non-respondents, a Seattle DSA working group sought to determine the candidate's position based upon public statements.
Here's who we reached out to, and who responded:
Mayoral candidates (incumbent is Ed Murray):

Mike McGinn — Responded
Nikkita Oliver — Responded
Jason Roberts — Responded
Casey Carlisle — Responded
Keith Whiteman — Responded
Harley Lever — Did not respond
Mary Juanita Martin — Did not respond
Cary Moon — Responded May 19
Alex Tsimerman — Did not respond
David Ishii — Unable to contact
Bob Hasegawa — Did not respond
Jenny Durkan — Did not respond
Jessyn Farrell — Did not respond
Michael Harris — Did not respond
Position 8 (incumbent is Tim Burgess):
Jon Grant — Responded
Sheley Secrest — Responded
Charlene Strong — Responded
Ryan Asbert — Responded; withdrawn
Sara Nelson — Responded
Teresa Mosqueda — Responded May 9
Hisam Goueli — Did not respond
Mac McGregor — Did not return answers
Rudy Pantoja — Refused questionnaire
Position 9 (incumbent is Lorena González):
Lorena González — Did not respond
Marguerite Richard — Did not respond
David Preston — Refused questionnaire
Eric Smiley — Refused questionnaire
Ian Affleck-Asch — Responded May 16
Pat Murakami — Has not returned answers
Amanda Carter — Did not respond
Each week, we'll post candidates' responses to the questions. For links to answers we've already posted, see the list of questions below.
Here's what we asked: