Lonely, isolated, divided, and powerless – that's how the capitalist class wants to keep us, realizing that our strength comes from being united in a community working toward mutual goals is the first step. We like to think of our little Hellhole as a community and this week we have an analysis of ICE and immigration, Seattle's new top cop, baseball™, some notable upcoming events on elections and labor, and an original comic (a first?). Enter the Hellhole!
All immigrants and refugees are worthy.
Yes, all immigrants and refugees are worthy of movement, thriving living standards, and being welcome to our neighborhoods. US immigration policy is a dreadful leviathan that threatens peace, devastates families, and (like we said last week) part of a long-term plan of dehumanizing foreigners workers, esp. Latinx communities.
We've already crossed the threshold where reactionaries shrug when ICE, CBP, and DHS rip children from their families and into concentration camps, where they face isolation or abuses far worse. We're seeing denaturalization of citizens, almost exclusively on racial lines.
What of older workers? Or teenages? What of those who don't qualify for the means testing of the DREAM act?
Locally several groups are already entrenched in the fight. The Northwest Immigrants Rights Project represented and recently freed a young survivor of trafficking, neither a young child nor an adult, neither a college student nor like the five mothers NWIRP fought to released. ICE would not have even considered allowing bond for her freedom if third parties had not intervened. Unions and a broader coalition are getting behind workers too, as is the case of the Washington Immigrant Solidarity Network. Northwest Detention Center Resistance has been active with the coalition protesting in Tacoma and SeaTac federal prison but also an upcoming action at the Angle Lake Light-Rail Station. Locally and longer term, groups like Community to Community are fighting to improve living standards, participatory democracy, organize unions, as well as reject ICE's deportation squads. ICE can and must be defeated and long term organizing lead by immigrants will ensure ICE and Border Patrol stay down.
As socialists, we must reject calls for mere reform of ICE and the Border Patrol. We must abolish. When human beings are held for bond, potentially forced to work or face retribution, we have co-signed their bondage and captivity. If we do not push the line back, we will see new, worse horrors. We must stand in solidarity, as Eugene Debs once testified in court:
Years ago I recognized my kinship with all living beings, and I made up my mind that I was not one bit better than the meanest on earth. I said then, and I say now, that while there is a lower class, I am in it, and while there is a criminal element I am of it, and while there is a soul in prison, I am not free.
Socialists realize that the capitalist class will always seek to divide us into worthy and unworthy, to pit us against each other, to normalize us to the taste of each others' suffering. Reject the taste of injustice. We must advance solidarity among all races, ages, genders, ability status, immigration status, sexuality, and creeds.
Just Because It Is A Better Option Doesn't Make It Good Thing
In what is an admittedly unexpected development, on Tuesday, Carmen Best was named as the Seattle Chief of Police after serving as interim Chief since January. On the relative scale, having a police chief that has ties to the community is better than an outsider. But much like how a local 'small' business may feel better than a large conglomerate, they still are still a part of the unjust system of capitalism — only 'good' for the community until it suits them not to be.
We must continue to move forward, break the power of police and be rid of them. Society can function and be even greater without police. Police, ever the idealized hard-nosed detectives and tireless public servants in the media, exist to convey the threat of state violence against those who would disrupt the ongoing systems of oppression.
Nobody Is Free From Bad Bosses
Moving to one of the Hellhole's occasional wholesome sports features, this week the MLB held its All Star Game in which we got a reminder of how openly racist (link warning: a whole lot of slurs) some players remain 70 years after Jackie Robinson joined the majors. And although the All Star Game was actually pretty good this year, the Commissioner of Baseball (and union opponent), Rob Manfred, took some time out to disparage Mike Trout for not taking enough time outside of playing to market himself for the good of MLB.
For those of you unfamiliar with baseball, Mike Trout is one of greatest—if not literally the single greatest—player of all time. On top of that, he's humble, active in his community, endearingly boring, and completely free of any negative attention. But like all capitalist bosses, Manfred demands more. And if they won't be satisfied with one of the greatest performers in the history of his job, what hope do the rest of us have?
Someday, under socialism, we could all just enjoy seeing Mike Trout play the game and when he goes home at the end of the day, he could just enjoy the weather. A better life for everybody.
Teachers of the world unite!
Teachers unite! You have nothing to lose but the bullshit you deal with to protect your students and your own dignity as workers. Whether it's Washington teachers facing the 6th largest pay gap in US education, chronic underfunding of even the most basic classroom supplies, or already marginalized populations like those in special education dealing with Washington's bi-partisan attacks on education, teachers are fighting battles on all sides.
Pissed off? We are too.
That's why next week we're holding an series of discussions featuring Nicole McCormick, a middle school music teacher who helped organize the West Virginia teacher strikes!
Join us at one of the following awesome events and learn about how these brave teachers organized, planned one of the biggest illegal strikes in U.S. history, and won from the bottom-up!
And now for something completely different…
If you've never been to a Workplace Organizing Collective meeting, check the Seattle DSA  calendar. Learn how others in the community are fighting in their job site to create a better world where labor not only deserves but reclaims the full value we create. If you've ever sat in a meeting like the one below, nod your head and attend a Workplace Organizing Collective meeting.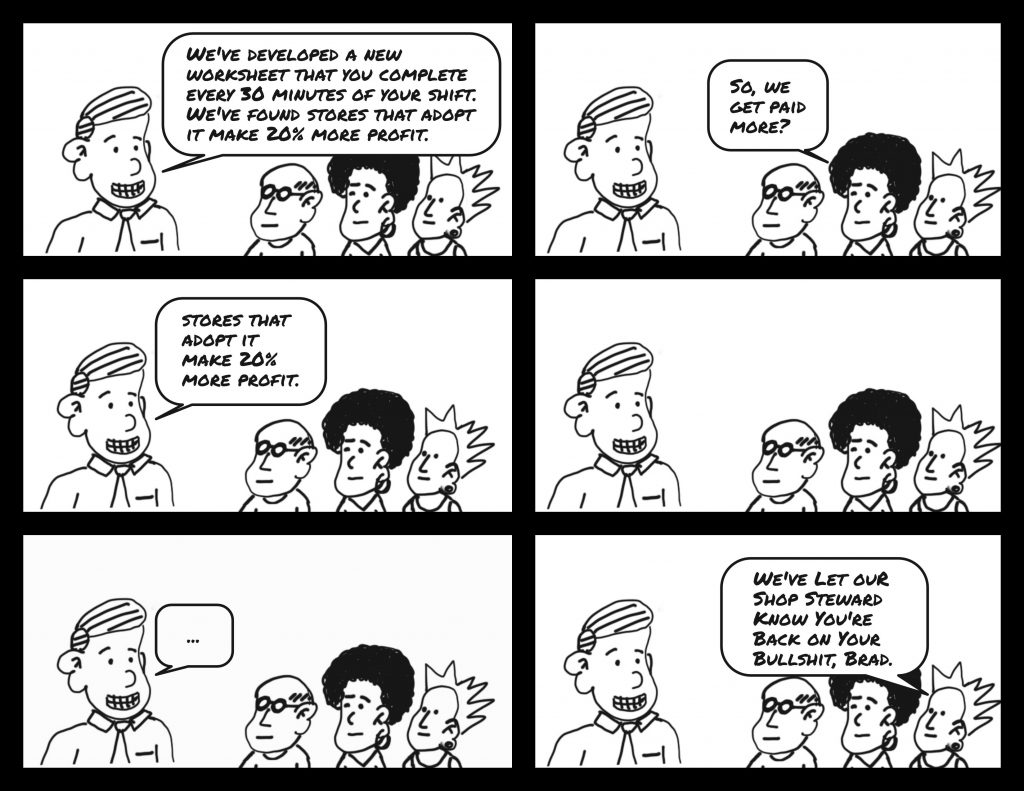 Medicare for all has legs
Yesterday, 60 congressional Democrats got together to launch the new Medicare for All Caucus, led by our own Pramila Jayapal and others, the group is uniting behind H.R. 676, an outline of how the system would transition to one that covers millions through a means-tested, state-administered program to one that covers all.
As we learned in the fight for the Affordable Care Act, there are a lot of forms the final bill can take, and that's why DSA is organizing nationally and here in Seattle (this weekend) to make sure that when we can pass the bill, we have a grassroots core in place to demand the strongest version possible.
It's past time for single payer folks (and more).    
Electoral Meeting Saturday
It's primary season! Join the Seattle DSA general membership Saturday, July 21, 2:00pm-5:30pm at the University Branch of the Seattle Public Library as we vote on potential endorsements for candidates and ballot initiatives for the 2018 election cycle! There will be a half hour presentation by candidates, followed by a half hour structured discussion with general membership. See you there!
It's a Hellhole but it's our Hellhole.
The Hellhole and Seattle DSA's communications team is always looking for volunteer writers, editors, cartoonists, and anyone willing to connect local issues to global capital and vice-versa.
If you're a Seattle DSA member, be sure to ask for access to Slack from [email protected] and join our #communications channel. If you're not on slack reach out to [email protected] and get involved.