Pictured: Workers install a $100,000 fence to keep our houseless neighbors from sleeping under the Ballard Bridge while a sign advertising the convenient luxury of Amazon Fresh towers overhead. (Credit: @BrittneyBush)

Is Seattle a city, or is it an experiment in municipal disaster capitalism? This week we let you decide with stories about fascists out on the town, some very-local union fights and victories, rich boys getting a new club, and we return to our favorite topic of overindulgence: Amazon. Plus, there's an opportunity to fight back! Welcome to the Hellhole.
REPORT: Men With Phalanx of Armed Guards Hold Rally Decrying Intimidation?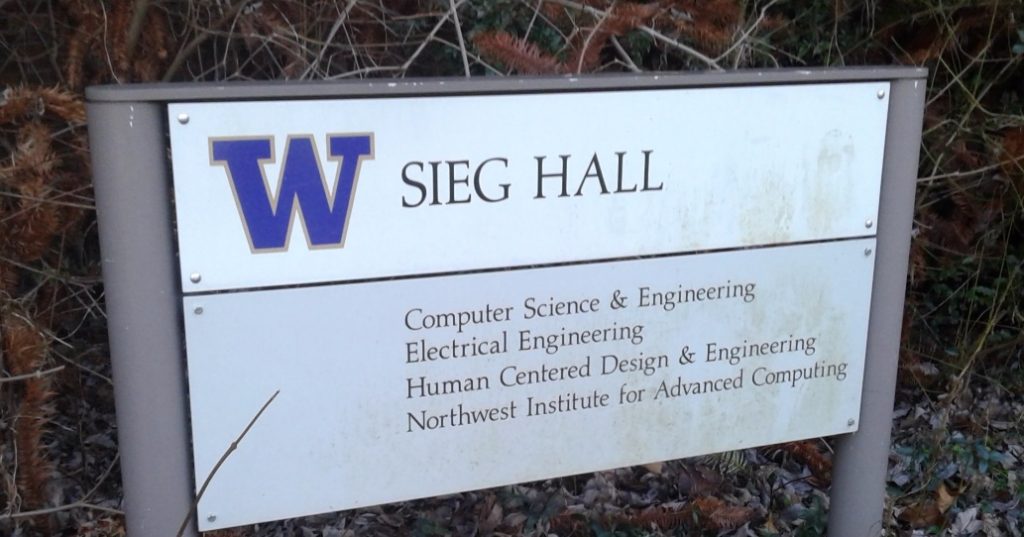 Surprisingly not where the fascists chose to rally
Members of the UW College Republicans, Proud Boys and Patriot Prayer met up behind a police barricade in Red Square on Saturday to lament how difficult is can be to publicly express their hateful and cruel politics. "They use violence. They use intimidation," said one speaker describing, not the rise of right-wing extremism across the country, but his heart-felt concern trolling over campus free speech. On the other side of the barricade were many times more people, some in coalition with groups such as the UW chapters of ISO, Socialist Alternative, IWW, and YDSA, all there in opposition to the racist, sexist, and fascist views held by the right wingers.
The hours-long standoff between the two sides was punctuated by occasional spikes of police violence as they slammed their bikes into the protesting crowd and indiscriminately pepper sprayed everyone in range. Throughout the day, right-wingers left their camp to instigate within the crowd. Their excursions did not last long. The totalitarian enthusiasts found it more preferable to hide behind the cops and barricades than to directly face those whom they would seek to victimize.
Because of the rally, the Black History Month events "Young, Gifted And Black" and the annual "Every body, Everybody Fashion Show" were both cancelled by the university. UW President Ana Mari Cauce added insult to literal injury by equating the Black Lives Matter movement with the Patriot Prayer group's reactionary antics.
As emboldened the white supremacists and fascists are by Trump and the hand wringing false equivalencies of officials, people must continue to stand in opposition to them. Neutrality against fascism is complicity, and we can't afford to back down.
Grassroots Campaigning Meets Union Power
If you've ever spent much time walking around Seattle, you've probably run into canvassers for any number of progressive causes. Maybe they've even come to your door (as an aside, if you live in an apartment building and let a canvasser in to talk to your neighbors, they'll sing songs in praise of you for years to come). Canvassing is tough work on the best of days, and the workers who do it deserve a square deal from their bosses.
Many of those canvassers work for a company called Grassroots Campaigns, and they just gave their bosses quite a Valentine's Day gift. The Seattle branch of the Industrial Workers of the World announced on Wednesday that a majority of the Grassroots Campaigns staff had signed union cards and would be filing for recognition with the National Labor Relations Board. Congratulations are due both to the workers who stood up for better treatment, and to the Wobblies who worked with them to organize. Hum a tune from the Little Red Songbook this weekend in their honor!
Solidarity Across the Airwaves
In a rare stroke of luck this week, your Hellhole team is pleased to say that there are not one but two pieces of good news to report in the world of labor organizing. Staffers at KUOW-FM 94.9, a National Public Radio member station operated by the University of Washington, voted to unionize with SAG-AFTRA. Workers at the station face struggles that may sound familiar: a skyrocketing cost of living, stagnant wages, and costly benefits.
Whether you work at the news desk in a radio studio, hitting the pavement to raise money for progressive causes, or anything else under the sun (or moon, or clouds), you deserve a living wage and a decent standard of living. As long as we have to rely on our employers for those things, we need collective power to win them. If you'd like to learn more about building power in your workplace, visit our Workplace Organizing Collective every Wednesday night at 7:00pm at All Pilgrims Church.
Billionaires Apply For Permission to Own Expensive Club
On Tuesday, the Oak View Group formally applied to the NHL to bring a team to Seattle. If there is one thing that Seattle doesn't yet have enough of, it's billionaires with sports teams that the city government will bend over backwards to assuage. But because of a long bargaining session that ensures no public money is to be used in construction, this endeavor doesn't (yet) come with the hefty public price tag of many stadium construction projects which consistently over promise on jobs and economic development, go over budget, and under deliver. Most are as bad as the Olympics, but they don't have to be.
Imagine a world where teams could be owned and operated by the community the team supposedly represents and the revenues from the team could be used for the benefit of the city – not lining the pockets of the idle rich. A form of community ownership already exists in American professional sports with the Green Bay Packers – even it leaves a lot to be desired. Much like everything else, even sport fandom could be better and more meaningful in a socialist world.
Amazon's Robber Barony
Amazon is in the news again, and like always, it's for something sinister. As reported in Jeff Bezos' personal newspaper, the Pentagon decided to award a $950 million cloud computing contract (potentially worth billions over its lifetime) to an Amazon partner company sparking fears among the military industrial complex's old stalwarts that the tech giant is monopolizing more than just retail – it's taking over the huge and lucrative world of defense computing. Amazon already holds a massive contract with the CIA, is now selling medical supplies, hopes to get into insurance and healthcare* and has just become the third most valuable company in the world displacing Microsoft with a Wednesday market capitalization of $702.46 billion. It's a fantastic amount of money, and one that carries a very heavy public cost.
According to the Institute on Taxation and Economic Policy, in 2017, Amazon reported $5.6 billion of U.S. profits and didn't pay a dime of federal income taxes on it. Not only that, but they stand to gain an additional $789 million one-time tax break from the Trump tax scam. Pile this on top of the $241 million in subsidies governments in two dozen states and locales committed to Amazon facilities since 2015, the $600 million in subsidies from the previous decade, whatever insane amount they'll get from the poor city that wins their Hunger Games style HQ2 project, and the astronomical amount they banked by skirting sales taxes on books and doo dads ordered online for over a decade, and Amazon's empire looks less like a tech revolution and more like a systematic shakedown of public coffers.
Imagine the things we could accomplish and the problems we could solve if our leaders weren't willing to sell the farm every time companies like Amazon, Boeing, or Microsoft came courting. There's more than enough wealth in the Puget Sound alone to solve Seattle's problems hundreds of times over. To quote Mary E. Lease, "If one man has not enough to eat three times a day and another man has $25,000,000, that last man has something that belongs to the first." It would appear the Jeff Bezos has something of ours.
The Head Tax You Like Is Coming Back In Style
Encampment sweeping and fence construction around bridges and alcoves is continuing at a rapid pace under new mayor Jenny Durkan, but the city is poised to take up the issue of a head tax on large businesses again. You may remember that the tax was voted down last year, and the Seattle process went into full swing with stakeholder panels created and meetings and reports scheduled. The Progressive Revenue Task Force is now hard at work brewing up a recommendation for the Council, even as the Chamber of Commerce whines and pouts that it's even being considered.
If you feel like housing should be a human right and that companies like Amazon should have to pay their fair share to make it possible, join the Housing For All Coalition and Councilmember Teresa Mosqueda on February 20 for the Closing the Housing Gap event to explore the housing gap and its impacts on our quality of life and the future of our city. You can also call your councilmembers to urge them to support the coalition and the recommendation of the Progressive Revenue Task force that's due back at the end of February.
* By healthcare, Amazon probably intends to offer more than they did the time in 2011 when they stationed paramedics and ambulances outside their facility in Allentown, Pennsylvania, to cart off workers (making less than $12.25) who had collapsed after working in the 102-degree super-heated warehouse.
?
Get involved with Seattle Democratic Socialists of America
?
Learn more about us | Come to our next meeting | Read more Hellhole
Hellhole is written by members of the Seattle DSA communications team. Unless expressly stated, Dispatches do not necessarily reflect the views of Seattle DSA as an organization or its leadership.