It's time to shake up this city – earthquakes not withstanding. This week, the struggle over Ft. Lawton continues, the landlords strike back, and it's time to tax Amazon. Enter the Hellhole
Hold the Fort
You've heard it here before and you'll hear it here again: Seattle needs affordable housing. Well, truly, Seattle needs public housing. And quite a lot of it! Unfortunately, we have a city government that would rather sell off public land for a one-time cash grab (albeit for a decent cause) than build city-owned housing that would serve the area for decades to come.
There is one wrinkle in our fabric of sadness: the vacant military base seated at the edge of our city's largest park.
While much of the base housing has already been bulldozed or remodeled into million-dollar luxury homes, the remaining land lies dormant. But not for long: the federal government has offered it to the city for free, provided that it's used to build affordable housing. Hurray! Problem solved!
OK, Stephanie.

The final EIS for Ft Lawton was published today, including public comments: https://t.co/vTlGIQCD4Y

The city still has affordable housing as its preferred use, NIMBY types claim they'll sue. Background: https://t.co/HFttvJ1XOd pic.twitter.com/6RG7AqZQmn

— Heidi Groover (@heidigroover) March 29, 2018
Well, no. It turns out that the wealthy surrounding neighborhood does not take kindly to the idea of non-wealthy people in their midst. The City's Office of Housing was bombarded with comments that ranged, roughly, from breathtakingly ignorant to completely amoral. A particular point of contention was that the site would cut into part of Discovery Park (it won't), that it would destroy a natural area (it's a field of concrete that the Army used for decades – it's probably halfway to a Superfund site), that there's not enough infrastructure (if you're from Seattle you know that our City only ever builds infrastructure before it needs it, never to meet a pressing demand), and that the people living there would be (scary ghost voice) dangerous.
The authors of the Hellhole deem that the accumulated wealth and privilege of the commenters and their neighbors is far more dangerous to the fabric of our city – but that's just us.
The City has released its final environmental impact statement, which includes all of these wonderful notes as well as some actually good comments from decent human beings. Even the City had to admit that a major current in the comments was a call for much, much more housing than is currently planned. Keep the pressure up.
Housing Wars III: Revenge of the Landlords
Last month we brought you news that Judge Suzanne Parisien of the King County Superior Court began hearing arguments in a lawsuit against Seattle's "first in time" law, which requires landlords to rent to the first qualified applicant. Reminder that the whole point of this law is to curb implicit racism, transphobia, and ableism, and it says nothing about what qualifications a landlord may or may not require of prospective renters.
When we heard that Judge Parisien is herself a landlord, we knew not to get our hopes up too high about the outcome of this lawsuit, and this week brought us news that wasn't surprising: the "first in time" law has been struck down. The good judge says that being able to choose one's tenant is a "fundamental attribute of property ownership." We don't dispute that! That's the problem with commodifying housing: a handful of people get to decide whether or not their neighbors have a roof over their heads. Councilmember Lisa Herbold and the Seattle City Attorney's office are going to explore "next steps," so we may not have heard the end of this fight.
We've said it before and we'll say it again: housing is a human right. To be a landlord and to take this stance is to say that you're perfectly fine choosing who gets shelter and who has to look elsewhere. We envision a world where everyone is sheltered, where everyone recognizes their obligation toward their neighbors' wellbeing, and we're working to make that world a reality. Won't you join us?
Tax Amazon and Maybe Someday We'll Break Even
How much lucre is Amazon demanding to take over a community? A new failed offer from Rochester, NY, that was made public proves it's more than $700 million. As cities across the U.S. scramble over each other in a race to the bottom to sell out to Amazon, the city of Seattle is finally on the verge of doing something different.
This Tuesday, Seattlites packed the Langston Hughes Performing Arts Institute to call on the city to pass a head tax and progressive taxation of $150 million a year to alleviate the city's housing crisis.
Keaton from @SeattleDSA is one of the mcs for the #TaxAmazon town hall pic.twitter.com/RZlMH18hpE

— Joshua Koritz (@ritz135) March 28, 2018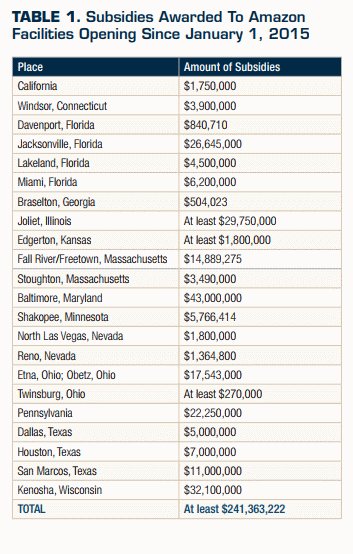 The proposed head tax is the right way to go. It taxes the richest 5-10% of corporations operating in the city who see all the benefit but don't pay their fair share when it comes to solving the problems their growth creates. And for companies like Amazon, who paid zero federal taxes in 2017, are expecting a $789 million windfall from the GOP, and who have collected millions from localities across the country while demanding more – it couldn't come soon enough. Nonetheless, the business class is scared, and they're circling the wagons.
As reported by the Seattle Times: "More than 180 business leaders — including the president of the Seattle Metropolitan Chamber of Commerce, which boycotted the (progressive revenue) task force — signed a letter Tuesday urging the council to reject a tax they don't want to pay."
Will the City Council flinch in the face of light business opposition, or will they stand with the people of Seattle demanding that companies be held accountable? Are all their words about solving the housing crisis empty, or are they finally ready to stop stalling and take action? What actually happened in the closed door meeting between Amazon and Sally Bagshaw?
Let's find out. Call your City Councilmembers today! Demand that they support the head tax and the recommendations of the progressive revenue tax force!
Bonus Solidarity!
Oklahoma Teachers Just Got a $6,100 Pay Raise. They're Going to Strike Anyway. Learn more about the upcoming teacher's strike in Oklahoma, and hear from teacher-organizers from West Virginia, Oklahoma, and Arizona THIS Saturday, from 4-6pm at the Labor Temple.
?
Get involved with Seattle Democratic Socialists of America
?
Learn more about us | Come to our next meeting | Read more Hellhole
Hellhole is written by members of the Seattle DSA communications team. Unless expressly stated, Dispatches do not necessarily reflect the views of Seattle DSA as an organization or its leadership.