Capitalism is a system that keeps people down, solidarity is an action where we lift each other up. The week of May Day brought counter-revolution to Seattle. This week: Bezos runs amok with his company, homeowners, parts of the city council and a handful of builders; teachers fight back; landlords are still awful; and the people march for justice. Enter an action-packed Hellhole…
BILLIONAIRES. IN. SPACE.
Pancake and exploitation enthusiast Jeff Bezos stated in an interview this week that the only thing he can think to spend his billions of dollars on is funding his pursuit of putting rich people into space. Space travel is the vision of rich creeps like Bezos and Elon Musk because it lets them dream of colonizing and shaping an infinite expanse to their whims, placing them as the openers of the heavens, expanders of humanity, and being the ones holding the keys. Whatever there is in space for humanity should be for the benefit of all, not only for the rich.
Bezos says he's inspired by the work Mary's Place does and he's very motivated by the present. There is a lot of good that he could- wait… this just in:
Amazon Threatens City Over EHT
In a reminder that all billionaires with dreams of space are evil and only looking to uplift themselves and the necessary set of minions, Amazon has threatened to stop construction of a new building pending the results of the EHT. Amazon, a company that had a profit of $1.9 billion in three months and got a $789 million tax cut from Trump is threatening the city over a tax that would cost them $20 million a year or only about $500 per employee. This is malicious contempt for the city that is being completely reshaped by Amazon and all of the people being harmed by it.
Trickle-down economics are a lie! What benefit does the concept of A Job At Amazon actually provide to a city with such broken taxation beyond the one person who benefits? Even the six figure salaries of an Amazon engineer are pocket change compared to the billions being taken in by Bezos and top executives. It is a system engineered to blind those workers to their well-paid exploitation and to the impact of the inequality the rest of us. The rise of Amazon and the visibility of poverty and homeless are directly linked. The City Council must not capitulate to capitalistic strong-arming and do the right thing in the here and now!
This tax is a first step to a better world. A better world where no one has to experience homelessness or hunger. A socialist world, where the distribution network of Amazon could be used for the benefit of all – not just the wealthy. This is the path to humanity's uplift, not some rich boy's rocket ships.
No Housing for You, 24601
In our ongoing mission to provide real assistance and security to our unhoused neighbors, we run into a lot of stumbling blocks: overzealous cops tearing down camps, regular folks who just really don't want to have to acknowledge that the unhoused have needs, and landlords who don't want to have to give housing to people they're biased against.
In our latest installment of This is Why Housing Should Not Be a Commodity, our old friends the Pacific Legal Foundation are suing the city (yes, again) over a law passed last year that bars landlords from refusing – in most instances – to rent to prospective tenants due to their criminal histories. The law makes exceptions for when the landlord lives on the same property they're renting out, or when the tenant is a registered sex offender and landlord can show a "legitimate business reason" for refusing the tenant.
This law seems pretty straightforward. Even people who have been imprisoned need a roof over their heads, and rocky housing situations can contribute to recidivism, meaning that providing housing to people who need it may lower the chances of crimes being committed and perpetrators getting thrown back into the "justice" system. Removing barriers for entry to housing is a win for the community all around.
But PLF doesn't see it that way. Ignoring inconvenient things like facts, justice, and mercy, landlords will make sure that it's even easier to leave human beings to fend for themselves.
We'll never tire of saying this: housing is a human right, not a commodity, and we envision a world where your past doesn't bar you from living indoors. The movement to win housing for all is going strong in this city, and it's never too late to join the fight!
The Ballard Putsch
In case you thought Amazon and other big businesses were the only folks flexing opposition to the Employee Hours Tax, you can now add the tragically misinformed and the tragically conservative to that list. An angry mob descended on Trinity United Methodist Church in Ballard Wednesday night, spitting red-faced as they shouted down any panelist trying to clarify the proposal – they weren't here to listen. The crowd drowned out repeated attempts by four councilmembers and three representatives of the Progressive Revenue Task Force to explain that the proposed tax will not raise their property taxes, and in fact, will only affect the highest-earning 3% of businesses.
The speakers reveled in cognitive dissonance – they want houseless folks off the streets, precisely what this legislation proposes to do, without taxing citizens further. But more often speakers' brown shirts were showing, calling for abolition of the city council and the "rounding up" of the poor and mentally ill. It was a jarring display of Seattle's not-so-subtle right wing, and a reminder that the city could quickly become even worse for those without permanent shelter.
In other housing news, the Fort Lawton Environmental Impact Statement has been appealed, by rich homeowners – the hearing is May 15th.
And, while the city and affordable housing developers struggle to find land to build on, 18 acres in one of the wealthiest neighborhoods in the heart of Seattle is quietly moving forward with development of more suburban-style luxury housing. A group calling themselves Affordable Talaris is organizing and collecting signatures to encourage the city to build more dense housing there.
May Day Highlights
Seattle DSA members joined socialists, anarchists, labor organizers, anti-war activists, immigration justice advocates, and many others in Seattle's annual May Day march last Tuesday. We even brought a few new flags:
Robby & Sally start to quake,
City Hall's eclipsed by red handshake! pic.twitter.com/ODDEZFL89c

— Seattle DSA? (@SeattleDSA) May 2, 2018
The march wasn't the only thing in store. A picket line sprung up at a Wendy's in Lake City to protest abuses against farmworkers in the fast food company's supply chain. Terrified by the picketers' stylish black clothing, Seattle's overtime-hungry law enforcement showed up to unintentionally complete the blockade:
The class traitors showed up like clockwork #acab #ftp pic.twitter.com/F1FIGN7QGb

— Seattle DSA LSC ?? (@sdsa_lsc) May 2, 2018
While many leftist and fellow traveler groups accomplished awe-inspiring feats of solidarity and strength on May 1st across the globe, perhaps none shined so bright as one simple sign, designed with care and love by Chairman Avakian himself. Take it away, Bob:
Proud Boy in Seattle finds a sign he doesn't like during #MayDay & tries with all his might to rip it up. It doesn't work out. [h/t @nategowdy] #MayDaySea pic.twitter.com/Z2P0KhQw0J

— Ash J (@AshAgony) May 2, 2018
Educators Claim Victory in Arizona
Teachers and other educators in Arizona have returned to their classrooms after the governor caved to their demands this week. While you might see pay raises mentioned in headlines, the real key issue was additional funding for classrooms – the same issue that divided Oklahoma educators from the union officials that told them to return to work. Strikers have specifically fought back against proposals that would benefit them at the cost of their students, just as graduate student workers at the University of Washington (members of UAW Local 4121) have fought for equity, inclusion, & diversity as essential parts of their contract negotiation. Teachers know that a raise and a little more funding isn't enough, and #RedforEd is shifting their focus now to raise income taxes on the rich.
When the working class is willing to turn against its own larger interests for short-term gains, we all lose
The history of all hitherto existing Seattle.
In the shadow of Jeff Bezos' ugly glass balls, a group of socialists gathered to hold a press conference in response to Amazon's cowardly extortion in holding working-class jobs hostage if the proposed Head Tax is passed by the Seattle City Council. The press conference was called and led by socialist Seattle City Councilmember Kshama Sawant. She was joined by Seattle DSA organizers & tech workers Walé Ogundipé and Joe Dobner, Co-Chair Keaton Slansky, Socialist Alternative organizer Kailyn Nicholson, and an Amazon worker (who preferred to remain anonymous to avoid retaliation) to speak in favor of the tax and against this absurd corporate shakedown. Much to the surprise of the workers speaking in favor of the tax, a group of over a dozen union Ironworkers showed up and shouted down Sawant with chants of "NO HEAD TAX" whenever she tried to speak. After multiple invitations from Sawant to speak into the mic and hear each other out, Chris McClain, political director of the Ironworkers Local 86 union, took the mic and spoke to how "responsible" Amazon is before going back to trying to silence Sawant. They left shortly after the councilmember decided to continue speaking anyway.
We need to be clear about two things here: 1) We stand in solidarity with all workers. We believe that everyone has a right to good wages, good housing, good healthcare and an overall good quality of life; 2) This is the history of class conflict writ large in 2018. Capitalism and the bosses have divided class and labor movements along these lines for as long as workers have been organizing. The common denominator here has never been a tax, or whatever other excuse the boss has come up with to avoid paying their workers fair wages or withholding jobs. The problem here is the bosses themselves. The problem is not that we want to tax Amazon to pay an incredibly small amount ($20m/year) compared to their annual profits (see graph below), the problem is that Jeff Bezos and his board refuse on principle to cede their profit margins.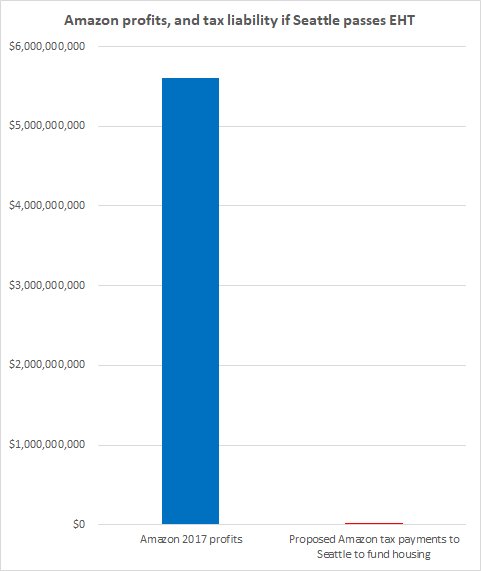 In a city where the average citizen is barred from Council Chambers by Sally Bagshaw for daring to advocate for affordable housing, Jeff Bezos is able to snap his fingers and manipulate public policy. We need to fight for a democratic control of our economy more than ever. It is clear that this is not a functional, or democratic, model for society. While much of the city's organized labor has stood in support of the tax, we need to be clear in our messaging here: we have a boss problem, not a worker problem, and as long as the capitalists continue to divide us along these lines we cannot stand in solidarity against the ruling class. We do not need the bosses, the bosses need us.
?
Get involved with Seattle Democratic Socialists of America
?
Learn more about us | Come to our next meeting | Read more Hellhole
Hellhole is written by members of the Seattle DSA communications team. Unless expressly stated, Dispatches do not necessarily reflect the views of Seattle DSA as an organization or its leadership.